Adam Sandler Was Once Pitched A Happy Gilmore Video Game (It Sounds Amazing)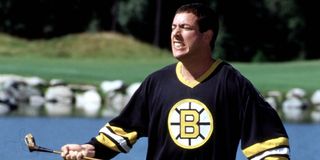 It has been a whole 25 years since Adam Sandler's hilarious Happy Gilmore was released; can all the millennials and Gen Z's cringe right along with me? It's shocking that the gem that brought us the scene of Bob Barker punching Sandler right in the face is a quarter of a century old, but what's even more so is that we were apparently deprived of a Happy Gilmore video game once upon a time. It seems that Sandler was pitched a Happy Gilmore video game adaptation, which sounds pretty amazing, and it was surprisingly denied.
Mike Mika, a video game developer, recently dropped a huge bomb on Twitter, saying that he and his team were once pitching a Happy Gilmore video game to the Happy Madison crew. He shares a photo of what may be the cover page of the pitch presentation, and apparently if the game had happened it would have been for the XBox crowd and would have been a hybrid of the fighting and golf genres. You can check out the post below:
I've got to agree with the Twitter user Mike Mika here, this project absolutely should have been greenlit. Of course, I really don't know all the ends and outs of video game creation, how many people they would have had to talk to about rights, and how much time Adam Sandler himself would have put into the project to put himself as the main character of the game – but I feel like it still would have been well worth it, whatever the cost.
It doesn't look like I am the only one who feels this way, either. Commenters on the post are saying they would "play the hell out of this," and the post has piqued serious interest from some fans. A conversation about details of the would-be game is happening in the comments, and it's honestly making the game sound so cool; there could have been unlockable characters like Abe Lincoln and the one eyed alligator.
It sounds like Adam Sandler himself was all about it and down for the project as well. In the replies, Mike Mika says Sandler was "super supportive" of the project and his brother even tried to get it pushed through. In the same comment, Mika says that Sandler and his whole crew were "the absolute best group to work with," and even worked with them on Little Nicky.
The poster goes on to say that Adam Sandler and his crew are some real stand up guys. He praises them, saying the moment you meet them they make you feel like "one of the guys." This seriously holds up, because over the years Sandler has created a reputation of a pretty chill guy and one of the most genuine people in Hollywood.
For whatever reason, though, the game was not greenlit, even if Adam Sandler totally was on board. It doesn't really seem like it's too late, as there's still a whole market for this awesome throwback. A 25-years-later sequel video game, anyone?!
Constantly thinking about books, coffee, and the existential dread I feel from Bo Burnham's Inside. While writing I'm also raising a chaotic toddler, who may or may not have picked up personality traits from watching one too many episodes of Trailer Park Boys.
Your Daily Blend of Entertainment News
Thank you for signing up to CinemaBlend. You will receive a verification email shortly.
There was a problem. Please refresh the page and try again.