Dax Shepard Wishes Kristen Bell Happy Birthday In Sweet Post After Therapy, Long Year+ At Home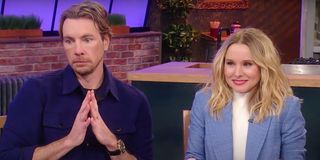 While the pandemic could likely result in a brand new baby boom to go down in the history books, some relationships are sure to spiral downward from being stuck together in isolation for so long. It looks like things between Hollywood golden couple Dax Shepard and Kristen Bell are persevering after over a year of isolation together. After openly admitting they needed couples counseling due to being locked in their home together for so long, Shepard posted a lovely tribute to his wife on her birthday.
Kristen Bell had her 41st (although she doesn't look too much older than she did in her Veronica Mars days) birthday a couple days ago, and her husband Dax Shepard chimed in with a super sweet Happy Birthday post on his Instagram, featuring Bell in full cowgirl, down-on-the-ranch chic. You can check out the post below, where Shepard praises both her heart and her "buns":
We're used to seeing Kristen Bell all dolled up and in some kind of super cute outfit (or sometimes none at all), but she can really pull anything off. She is donning some muddy boots, overalls and a big hat over some ruffled hair in the pic, and it's clear that Dax Shepard loves her all the same this way. The fans seem to agree, as they are calling her adorable and a total "smoke show" in the comments. Birthday wishes are, of course, plenty in the comments as well.
Dax Shepard and Kristen Bell could possibly top the chart of most real couples in Hollywood, and the pic Shepardd shared is just one instance of that very real-life image they portray that is rarely seen from celebrities. They have been open about their struggles, both as a couple and as individuals. They've stuck together through Shepard's struggles with addiction and relationship-threatening rumors, and it's just super refreshing to see the love they still share for one another.
Not only do they seem to be thriving in their personal lives, especially now that pandemic isolation seems to be lightening up, but they are moving forward together professionally as well. Kristen Bell and Dax Shepard are set to head a new TV project together, a game show called Family Game Fight, a play on the typical "Family Game Night" tradition some families partake in. The show is currently in a pretty good position and is set to premier on NBC directly after the Olympics closing ceremony.
You can catch Dax Shepard and Kristen Bell together in their new show starting August 8th at 10:30pm Eastern Time, but chances are we'll see more of the couple's interactions on social media before then. As for Bell's birthday, it looks like the couple had a good time playing western now that they're not fully locked in their house together.