Black Widow's Yelena Belova And 7 Other Characters We Still Don't Know If Thanos Dusted Or Not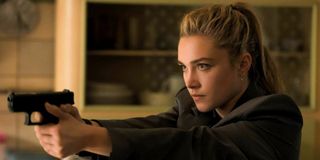 Each Marvel Cinematic Universe movie has been important to the film franchise in its own unique way, but it's hard to argue that any entry has been more consequential than Avengers: Infinity War. Not only did Infinity War prominently feature Thanos after being teased for six years prior, but at the end of the movie, the Mad Titan snapped his Infinity Stones-powered fingers and turned half of all life in the universe to dust. That action was undone by Tony Stark in Avengers: Endgame, but the fallout is still being felt in the MCU.
In the last two years, we've learned about how a lot of characters made out from Thanos' snap, whether it was actually seeing or learning if someone was dusted or survived directly within an MCU movie or Disney+ series, or talent, like Marvel Studios president Kevin Feige, disclosing the fate of certain characters during a press tour. That being said, there are still some major MCU players whose statuses in this period are shrouded in secrecy. Now's as good a time as any to go over some of these characters, starting with the newcomer of the bunch, Black Widow's Yelena Belova.
Yelena Belova
To be fair, not only did Black Widow mark Florence Pugh's debut as Yelena Belova, but the main story was set between Captain America: Civil War and Avengers: Infinity War. So obviously Thanos' genocide wouldn't have factored into the plot, but in Black Widow's post-credits scene, we jumped forward in time to see Yelena visiting Natasha Romanoff's gravesite after the events of Avengers: Endgame. With Yelena next set to appear in Disney+'s Hawkeye series, hopefully we'll learn whether she was snapped away or not.
Abomination
Following his appearance in 2008's The Incredible Hulk, it didn't seem like we'd see Emil Blonsy, a.k.a. Abomination, back in the MCU. However, late last year, it was announced that Tim Roth will reprise the role for Disney+'s She-Hulk series, and then the latest Shang-Chi and the Legend of the Ten Rings trailer revealed he'll appear in that movie battling Wong. Ideally we'll lean what Abomination's been up to in the years since we last saw him, including if he was snapped away. If he was, and assuming he'd still been incarcerated beforehand, I wonder if being reconstituted allowed him to escape custody.
The Collector
Although Benicio del Toro briefly appeared in Avengers: Infinity War, he was only playing an illusion of Taneleer Tivan, a.k.a. The Collector, conjured by Thanos rather than the real deal. So we haven't seen this cosmic hoarder since Guardians of the Galaxy, although obviously his own goal to collect the six Infinity Stones never came to pass. So what happened to The Collector? Did Thanos kill him before Star-Lord, Gamora, Drax and Nebula made it to Knowhere? Or was his life spared, and then the question becomes whether the Mad Titan later turned him to dust or not? Maybe this will be addressed if Collector returns in Guardians of the Galaxy Vol. 3.
Luis
In Ant-Man and the Wasp's mid-credits scene, we saw Hope van Dyne, Janet van Dyne and Hank Pym wiped away as Scott Lang was in the Quantum Realm, while in Avengers: Endgame revealed that Scott's daughter Cassie made it out of the Blip intact. But what about Scott's best friend, Michael Peña's Luis? Did he also survive, and did that affect his cheerful demeanor? Or was he dusted, and when he came back, did he have a lot to say? These are the questions that keep me up at night… well, more like I ponder for a few seconds at a time.
Karl Mordo
When we last left off with Karl Mordo at the end of Doctor Strange, he'd turned his back on the Masters of the Mystic Arts and begun his quest to reduce the number of sorcerers in the world. We'll find out how he's doing with that next year in Doctor Strange in the Multiverse of Madness, but Thanos' snap certainly aided Mordo with his ultimate goal, though that was undone five years later. Still, it'd be nice to know if Mordo was among those sorcerers who disappeared, or did he stick around those five years and simply hunt down the other sorcerers who remained?
The Grandmaster
The brother of The Collector, The Grandmaster appeared as Thor: Ragnarok's secondary antagonist, running the gladiator planet Sakaar and forcing Hulk and Thor to fight one another in front of a cheering audience. Fortunately, he was overthrown at the end of Ragnarok, and we last saw him attempting to reach a truce with the rebels. Jeff Goldblum is confirmed to be reprising Grandmaster in Thor: Love and Thunder, so now that we know his former subjects didn't behead him, let's find out whether he was dusted or not.
Nakia
At the end of Avengers: Infinity War, we watched as T'Challa and numerous Wakandan soldiers turn to dust, while Okoye and M'Baku watched in horror. In Avengers: Endgame, it was revealed that Shuri had also been snapped away, while Angela Bassett revealed that Ramonda survived. But what about Lupita Nyong'o's Nakia? She didn't appear in Infinity War, though considering her War Dog background, it'd make sense if her absence was due to being on a mission elsewhere in the world. Regardless, with Black Panther: Wakanda Forever coming out next year, the sequel should address how she fared during that dark period in the MCU.
Ghost
Thanks to quantum energy supplied Janet van Dyne, Hannah John-Kamen's Ava Starr, a.k.a. Ghost, was temporarily stabilized at the end of Ant-Man and the Wasp, though she soon went into hiding with Bill Foster to avoid being apprehended by the authorities. Janet, Hope van Dyne, Hank Pym and Scott Lang had intended to deliver more quantum energy to ghost, but the former three were dusted and Scott was trapped in the Quantum Realm. That's why I'm hoping Ghost was dusted rather than had to suffer without that necessary energy during those five years. Maybe Ant-Man and the Wasp: Quantumania will clear things up.
If any of these characters are revealed to have been dusted or not, be within a project or by someone in the real world, we here at CinemaBlend will let you know. For now, keep track of what the MCU has coming up with our Marvel movies guide and Marvel TV shows guide.
Your Daily Blend of Entertainment News
Connoisseur of Marvel, DC, Star Wars, John Wick, MonsterVerse and Doctor Who lore. He's aware he looks like Harry Potter and Clark Kent.