Wait, JLo, Ben Affleck And A-Rod Are All On Yachts In The Same Location For Birthday Celebrations?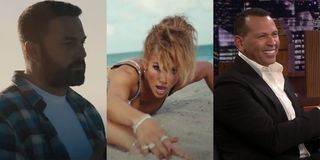 Just a few short days ago, Alex Rodriguez embarked on a yachting vacation in Europe to celebrate his 46th birthday later this month. Then yesterday, JLo celebrated her own birthday with some yachting pics featuring her new partner Ben Affleck and one very fitted bikini. For the big 5-2 she decided to head to St. Tropez, France and as it turns out, that's literally where A-Rod is too.
Yesterday, when JLo shared some brand spankin' new looks at her 52-year-old self in a bikini for her own birthday, I could not help but notice that she, like her ex A-Rod, chose to get on a yacht to celebrate her birthday. That in itself seemed like a coincidence worth talking out. While the two are not the same age, their birthdays do fall within a week of one another, which means they've both been caught out and about taking pics on a yacht at the same time. Here's one of JLo's now viral birthday posts for her birthday, which falls on July 24th.
Here's another with A-Rod living the good life and getting in that morning workout on deck. (To note, A-Rod made a concerted effort to get fit after his break-up with Jennifer Lopez was made official this spring.) Alex Rodriguez's birthday won't actually happen until July 27th, so he's been making it a full birthday week.
According to Page Six, the yacht that Ben Affleck and Jennifer Lopez are currently enjoying is in St. Tropez -- the same area where the yacht Alex Rodriguez is currently enjoying also is. They literally both chose to take the same trip for their respective birthdays, and now I have so many questions.
For one, was this something that was planned by the two before their split and they both decided, "Forget it, this is the vacation I want to take?" Is this perhaps just a wild coincidence, the type of wild coincidence that fans love to latch onto? Is there more going on than meets the eye? Or is St. Tropez just the obvious, no-brainer spot to take a yachting vacation and I just don't know because I don't have a yacht? There really is so much to unpack here, especially since this isn't the first time the couple kind-of sort-of crossed paths since their official split in April.
Since their break-up, A-Rod has gotten fit and started going out and about on the town; in fact, Page Six reported the star being seen with several bikini-clad women while on his trip. Jennifer Lopez, for her part, has moved on with Ben Affleck and brought their new relationship to the forefront in splashy style. You would think all involved would have drifted apart, but life has kept bringing them in close proximity. There was that time Rodriguez purchased real estate in the Hamptons down the street from where Lopez already owns property. Then there was another time, A-Rod jokingly called out a hostess who didn't invite him to a party he would have attended during his days with the "Love Don't Cost A Thing" singer. Now they are vacationing in the same locale.
Soon, Jennifer Lopez and Ben Affleck will be back to work to do press for their upcoming respective films, Shotgun Wedding (the film Lopez was on when A-Rod made a last ditch effort to reportedly salvage their relationship) and Deep Water (the film Ben Affleck shot with his ex Ana de Armas). So there may not be a ton of more opportunities for them to draw headlines by vacationing in the same place. Still, I'm sure the French town is big enough for them to avoid one another, but it's certainly a choice that deserves a raised eyebrow.
Your Daily Blend of Entertainment News
Reality TV fan with a pinch of Disney fairy dust thrown in. Theme park junkie. If you've created a rom-com I've probably watched it.