The Best Alicia Vikander Movies And How To Watch Them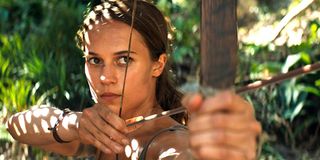 CinemaBlend participates in affiliate programs with various companies. We may earn a commission when you click on or make purchases via links.
Every now and again, an actor or actress comes around and catches the world by storm and quickly shoots to top of the movie industry. We've seen these quick ascents in the past, but one of the most impressive examples of this in recent years is the case of Alicia Vikander who went from a relatively unknown Swedish rising star to one of the most talked about names in Hollywood in the span of a couple of years. Thanks to movies like Ex Machina, The Danish Girl, and even Tomb Raider, Vikander has become one of the most prolific stars of our time and doesn't look to be slowing down anytime soon, especially with her presence on The Green Knight cast.
Below is a quick list of the best Alicia Vikander movies and how you can watch them whether they're on streaming services or available for digital rental or purchases (and even old fashion physical media).
The Danish Girl (2015)
One of the best movies on Netflix, Tom Hooper's 2015 biographical drama The Danish Girl tells the story of early 20th Century artist Einar Wegener (Eddie Redmayne) as he transitions to a woman who identifies herself as Lili Elbe. And while the outside world does not understand or support the artist's decision to undergo surgery to let go of her male past and begin her life as a woman, Wegener's wife, Gerda (Alicia Vikander) remains her biggest supporter despite the circumstances. Vikander won an Academy Award for her portrayal of the supportive wife and talented artist who never gave up on Lili through the thick and thin of the whole situation.
Stream The Danish Girl on Netflix. (opens in new tab)
Rent/Buy The Danish Girl on Amazon. (opens in new tab)
Buy The Danish Girl on DVD/Blu-ray on Amazon. (opens in new tab)
Ex Machina (2015)
Alicia Vikander had already started to build a respectable resumé by the time she showed up in Alex Garland's 2015 mind-bending sci-fi drama Ex Machina with all its questions about love, reality, and morality, but her portrayal of an android named Ava put her on the map. We're introduced to Ava after a young programmer named Caleb (Domhnall Gleeson) is invited to to the home and research facility of his boss, Nathan (Oscar Isaac), and her presence is immediately felt. What starts out as a Turing test to show off Nathan's work in artificial intelligence quickly turns into something much more.
Stream Ex Machina on Showtime.
Rent/Buy Ex Machina on Amazon. (opens in new tab)
Buy Ex Machina on DVD/Blu-ray on Amazon. (opens in new tab)
Tomb Raider (2018)
The Tomb Raider video game franchise went through a major tonal and gameplay shift with the 2013 reboot, and so it only made sense for the film franchise of the same name to do something similar when it returned in 2018 after being dormant for 15 years. This more grounded and gritty version of Tomb Raider saw Alicia Vikander take on the role of Lara Croft as she set out to solve the mystery of her father's (Dominic West) disappearance in a fabled tomb on the Japanese coast. What she finds on the island, however, defies logic and reality as she knows it.
Rent/Buy Tomb Raider on Amazon. (opens in new tab)
Buy Tomb Raider on DVD/Blu-ray on Amazon. (opens in new tab)
Anna Karenina (2012)
In 2012, director Joe Wright had the task of adapting Leo Tolstoy's 19th Century epic about love and war in the Russian Empire with Anna Karenina. While the heart of the movie focuses on Anna Karenina (Keira Knightley) and her love affair with Count Alexei Kirillovich Vronsky (Aaron Taylor-Johnson), a movie couldn't be considered an epic without branching storylines that tell the tale of other characters connected to the central drama. That's where we find Princess Ekaterina "Kitty" Alexandrovna (Alicia Vikander), who had the eye of Vronsky before Karenina came into the picture. Her story is just as important to overall narrative of Anna Karenina as anyone else's and helped make her into a rising star.
Rent/Buy Anna Karenina on Amazon. (opens in new tab)
Buy Anna Karenina on DVD/Blu-ray on Amazon. (opens in new tab)
The Man From U.N.C.L.E. (2015)
When CIA agent Napoleon Solo (Henry Cavill) and KGB operative Illya Kuryakin (Armie Hammer) are forced to put their differences aside during the middle of the Cold War to prevent a mysterious organization from starting nuclear war, we get The Man from U.N.C.L.E. Directed by Guy Ritchie, this 2015 action comedy sees the pair of adversaries find and rescue Gaby Teller (Alicia Vikander), the daughter of a German scientist whose story is actually more remarkable than they knew. Together, the trio set off to prevent the world from falling into chaos before it's too late.
Rent/Buy The Man from U.N.C.L.E. on Amazon. (opens in new tab)
Burnt (2015)
John Wells' 2015 drama, Burnt, tells the story of skilled yet emotionally unstable chef, Adam Jones (Bradley Cooper), as he attempts to earn his third Michelin star while also pulling himself out of series of bad mistakes and setbacks. Together with his trusty kitchen crew, which includes Helene Sweeney (Sienna Miller) and Michel (Omar Sy), Adam reaches new heights professionally, though his personal life remains a mess that is constantly boiling over. Things change, however, when Adam has a run-in with his ex-girlfriend, Anne Marie (Alicia VIkander), who inspires him to finally make the change that could save his career and life.
Rent/Buy Burnt on Amazon. (opens in new tab)
Buy Burnt on DVD/Blu-ray on Amazon. (opens in new tab)
The Light Between Oceans (2016)
Derek Cianfrance's 2016 period drama The Light Between Oceans, which is one of the best movies on Amazon Prime you can rent, centers on World War I veteran Tom Sherbourne (Michael Fassbender) and his wife Isabel (Alicia Vikander), who despite their best efforts, cannot have a child of their own to brighten the dreary life they lead at a remote lighthouse on the Australian coast. Their fortune changes when an infant mysteriously washes ashore, but the arrival brings with it another obstacle for the couple: Should they alert the authorities and find the child's family or raise the baby as their own.
Rent/Buy The Light Between Oceans on Amazon. (opens in new tab)
Buy The Light Between Oceans on DVD/Blu-ray on Amazon. (opens in new tab)
A Royal Affair (2012)
The 2012 Danish drama A Royal Affair sees Alicia Vikander take on the role of Caroline Matilda, who marries Christian VII (Mikkel Følsgaard), the king of Denmark, but quickly finds herself in a forbidden romance with her husband's doctor, Johann Friedrich Struensee (Mads Mikkelsen). This affair between the new queen and the royal doctor becomes something much more consequential, as the physician begins to take advantage of his situation and create a larger, and more powerful, role for himself.
Stream A Royal Affair on Hoopla.
Rent/Buy A Royal Affair on Amazon. (opens in new tab)
Buy A Royal Affair on DVD/Blu-ray on Amazon. (opens in new tab)
Testament Of Youth (2014)
The 2014 military drama Testament of Youth tells the remarkable story of Vera Brittain (Alicia Vikander), who abandoned her studies at Oxford to become a war nurse during World War I. Though initially supportive of the war and her country's role in the matter, the loss of several of the men closest to her causes the young woman to become a pacifist, a philosophy the real Vera Brittain dedicated her life to following the war.
Stream Testament of Youth on Showtime.
Rent/Buy Testament of Youth on Amazon. (opens in new tab)
Buy Testament of Youth on DVD/Blu-ray on Amazon. (opens in new tab)
Earthquake Bird (2019)
Set in 1989 Tokyo, the 2019 Netflix psychological thriller Earthquake Bird sees Alicia Vikander take on the role of Lucy Fly, a translator who finds herself accused of murder when her best friend, Lily Bridges (Riley Keough), goes missing after the two were involved in a love triangle.
Stream Earthquake Bird on Netflix. (opens in new tab)
With Alicia Vikander's busy schedule and upcoming 2021 new movie releases, it won't be long before this list is updated with even more stellar performances, including the still-in-the-works Tomb Raider 2.
Philip grew up in Louisiana (not New Orleans) before moving to St. Louis after graduating from Louisiana State University-Shreveport. When he's not writing about movies or television, Philip can be found being chased by his three kids, telling his dogs to stop yelling at the mailman, or yelling about professional wrestling to his wife. If the stars properly align, he will talk about For Love Of The Game being the best baseball movie of all time.
Your Daily Blend of Entertainment News
Thank you for signing up to CinemaBlend. You will receive a verification email shortly.
There was a problem. Please refresh the page and try again.