Even Dev Patel's Green Knight Co-Star Gets The Fans Thirsting Over The Actor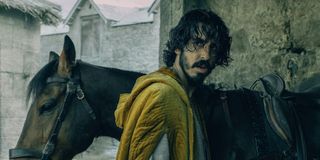 A24's The Green Knight has been one of the biggest surprise hits of the summer. The medieval fantasy starring Dev Patel has captured audiences with its dark and beautiful Arturian tale that will blow your mind, as well as boasts a great lead performance from the lead actor. After the film's first screening, fans were immediately drawn to Patel and couldn't stop thirsting for the actor. Now that the film is finally available to see, it's only intensified. Even one of Patel's The Green Knight co-stars gets the fans thirsting over the actor.
The Green Knight is a showcase for Dev Patel, who plays Gawain, the young man who goes on a journey of self-discovery to find the movie's title character. Ralph Ineson, who plays The Green Knight, understands why fans of the film can't get enough of Patel, and he has high praise for his co-star. Ineson discussed his experience working with Patel and how he feels about his performance, telling Polygon:
Ralph Ineson praised Dev Patel for one of the best performances he has witnessed while working with someone. Patel's Gawain is a complex character; a feckless young man who isn't a knight and has something to prove, but is also very vulnerable and afraid of the consequences of his actions and his mortality. He plays someone who matures through this journey and learns hard lessons about himself in the process. Ineson got to see Patel work up close and personal and was clearly struck by his performance.
Ralph Ineson went on to say Dev Patel is also helped by the fact that he's so handsome. Ineson is definitely a member of the Patel hive and understands fans' thirst towards Gawain. The Green Knight is an excellent showcase for Dev Patel and has fans excited for what's next for the actor.
The Green Knight is based on a 14th-century poem and Arthurian legend, and David Lowery recently revealed the five films that inspired his medieval fantasy. The film also stars Alicia Vikander (Tomb Raider), Sean Harris (Mission: Impossible - Fallout), and Erin Kellyman ( The Falcon and the Winter Soldier). Joel Edgerton gives an inspired performance in The Green Knight and says clips of drunk actors inspired his performance.
The Green Knight has everyone wanting more Dev Patel, so look through our list of the best Dev Patel movies and TV shows and where to stream them to quench your thirst. Patel delivered a great performance in one of the summer's most critically acclaimed movies, and I cant wait to see more of him.
Movie and TV obsessive. A good Heist movie is the way to my heart. Enjoyer of everything from Marvel Movies to Rom-coms.
Your Daily Blend of Entertainment News
Thank you for signing up to CinemaBlend. You will receive a verification email shortly.
There was a problem. Please refresh the page and try again.