The Rock Gets Candid About Why He Doesn't Have 'Perfect Abs'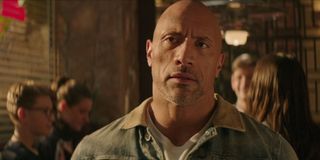 Dwayne "The Rock" Johnson's Disney blockbuster, Jungle Cruise, has arrived, and fans are loving it. The actor and businessman just keeps churning out hits and is an inspiration due to his body of work, and his efforts in the gym. The Rock is a fitness animal, routinely showing off his physique and how hard he works in his Iron Paradise. Though apparently, some fans have wondered why the actor doesn't have "perfect abs" as part of his ripped body. Now, Johnson is getting candid about why he doesn't have flawless abs.
Because The Rock puts in a 110% whenever he's working out, it's probably natural that some would question why he seemingly lacks pristine abs. While answering the Internet's questions for Wired alongside Jungle Cruise co-star Emily Blunt, Dwayne Johnson explained why his abs look a bit different:
So it turns out Dwayne Johnson had a gruesome injury that resulted in him tearing his abdominal wall, which prevented him from having "perfect abs." Of course, the idea of "perfect abs" is in the eye of the beholder, as everyone is different and has different circumstances. Plus, The Rock deserves serious kudos because such an injury would have put a lot of people out of commission permanently, but he came back better than ever and has continued to be a physical force.
The Rock has recently talked even more in-depth about the number of injuries he experienced throughout his pro-wrestling, football, and film career, and the list is really startling when you really look at it. The Rock discusses his ab situation further, saying:
The Rock is definitely right about the perception of physical perfection that can be perpetuated by Instagram, but it's great to see that he is happy with his "five and a half pack." Being comfortable with one's body is essential, and Dwayne Johnson has nothing be uncomfortable about. I mean, he has a superhero-like physique, which makes him perfect for playing someone like Black Adam.
Speaking of which, Black Adam is shaping up to be an incredible comic book movie, and the description of the character's powers only adds to the excitement and hype fans already have. Dwayne Johnson is sure to bring plenty of physicality to the role and, whether he's wearing his superhero costume or not, it's a safe assumption that most fans won't be giving his seemingly "not perfect" abs a second thought.
Movie and TV obsessive. A good Heist movie is the way to my heart. Enjoyer of everything from Marvel Movies to Rom-coms.
Your Daily Blend of Entertainment News
Thank you for signing up to CinemaBlend. You will receive a verification email shortly.
There was a problem. Please refresh the page and try again.