Dwayne Johnson Weighs In On The Celebrities Bathing Debate, And There's A Whole Routine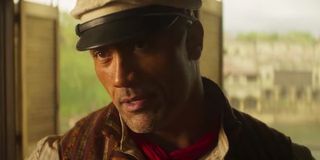 Believe it or not, many across Hollywood are currently explaining how often they shower and bathe themselves and/or their children. The discussion truly kicked off when Ashton Kutcher and Mila Kunis said they don't shower or bathe every day and don't bathe their kids unless they start to smell. Even Jake Gyllenhaal joined in, proclaiming that he also doesn't bathe or shower every day, which generated even more buzz for the debate. But Hollywood superstar Dwayne "The Rock" Johnson wasted no time in making it clear what side he's on when it comes to the celebrity bathing debate, and there's a whole routine to it.
The Rock took to Twitter to make some things clear regarding his bathing habits and his routine, and he was quite thorough. Johnson was prompted to provide his explanation after a fan asked him to confirm that he isn't in on the new celebrity bathing trend. Needless to say, his answer didn't disappoint. Here's what the actor and businessman tweeted:
So if it wasn't clear already, Dwayne Johnson is the complete opposite of a "not washing themselves" celebrity, and he has the routine to prove it. And to be honest, it's not really surprising to hear that this is the case. The Rock has proven to be a very precise and dedicated person when it comes to different aspects of his life, especially his personal schedule. Plus, given that he works out frequently, it was easy to assume that he would be well acquainted with a good (daily) shower.
You also have to love the fact that Dwayne Johnson regularly uses a face wash for exfoliating. Unfortunately, he character limitations Twitter has in place stopped The Rock from going into details about the products he uses, but I'd honestly be curious to know what his go-to face wash is. And of course, given his role as the demigod Maui in Moana, are we really that surprised that he likes to sing in the shower?
Aside from his sweet hygiene routine, Dwayne Johnson has a lot to be proud of, as fans are loving his and Emily Blunt's Jungle Cruise. The Rock even celebrated its success with one of his patented shirtless videos, in which he thanked fans for supporting the film. And as you would expect, the star has plenty of other projects in the pipeline. His next movie, ahead of his DC debut in Black Adam, is Netflix's Red Notice, which also stars Ryan Reynolds and Gal Gadot.
Because Dwayne Johnson spends so much time rubbing shoulders with other people, including fellow celebrities, it makes sense that he'd want to be fresh on a daily basis. And one can imagine that many fans are certainly relived to know where he stands on the great bathing debate. It'll be interesting to see who else decides to join in on the conversation as well as learn what side of the fence they fall on.
Your Daily Blend of Entertainment News
Movie and TV obsessive. A good Heist movie is the way to my heart. Enjoyer of everything from Marvel Movies to Rom-coms.