One Surprise That Was Shocking To Universal Orlando's Wizarding World Of Harry Potter Creators When The Park Was Coming Together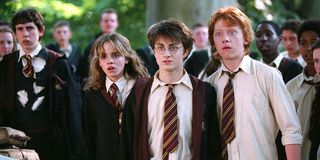 It's been a whopping 10 years since the last movie from the main series of the Harry Potter franchise was released (feel old yet?), and it's still hard to get one's mind around how much attention to detail was needed in the task of building a world like the one in the books. Apparently even the costumes were painstakingly thought out and so expensive that when they were recreated for Universal Orlando's Wizarding World of Harry Potter, the creators of the park were shocked at how high quality and detailed they were.
According to Jany Temime, the award winning costume designer for all the Harry Potter films (save the first two), the Hogwarts uniforms were actually pretty pricey to make. In an interview with Insider, the mind behind the iconic wardrobe says that since she used the highest quality materials for the uniforms they were both expensive and difficult to replicate for the theme park dedicated to the Wizarding World at Universal. Temime explained,
I guess I know why I could never get my $20 Gryffindor costume to look like the ones in the movies; excuse me for not crafting the sweater from the finest wool I could find. In all seriousness though, it's no wonder why the costumes look so amazing on screen.
Jany Temime says that she wanted to create high quality garments while also making the costumes into something the teenagers would have chosen for themselves (you know, except for Ron Weasley's unfortunate hand-me-down dress robes). This is why we see some of the students wearing their expensive, fine silk house ties in such a messy manner in a lot of scenes – because that's how they would have worn them if they really would have been in a wizard boarding school learning magic all day.
Even though the detailed costumes may have come as a shock to the park creators and may have even cut into their budget slightly, it's awesome to hear that they're keeping things as close to the magical world we see on screen at the theme park, even adding on to the park in new ways to bring more of the world into reality. Spending the extra money on fine silk for ties and real wool for the sweaters is certainly worth it – imagine fans at the real-life Wizarding World expecting magic just to be confronted with cheap Halloween costume knockoffs? Now that would be a shock, and it's definitely not the way they'd want fans returning to the Harry Potter universe.
Your Daily Blend of Entertainment News
Thank you for signing up to CinemaBlend. You will receive a verification email shortly.
There was a problem. Please refresh the page and try again.