The Suicide Squad 2: 9 Task Force X Members The DCEU Should Use In The Potential Sequel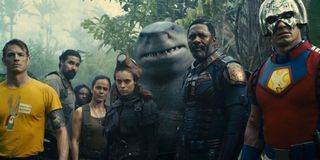 CinemaBlend participates in affiliate programs with various companies. We may earn a commission when you click on or make purchases via links.
The 2016 Suicide Squad movie employed a colorful assortment of DC villains to carry out Amanda Waller's (Viola Davis) dirty work, but the amount of Task Force X members were practically doubled in writer and director James Gunn's follow-up. If The Suicide Squad does, hopefully, spawn another adventure in which bad guys are forced into doing "good," I hope that the DCEU tries to go even bigger, badder, and, perhaps, even wackier with the cast. We already have a few ideas of who we would like to see in The Suicide Squad 2 (or should I say 3?), starting with one character whose DC movies debut is already on the way.
Black Adam
The tyrannical leader of the fictional country of Kahndaq has fought on both sides of the law before, having been known as an archenemy to Shazam on one hand and, on the other, a member of the Justice Society of America, who are also set to appear in the anti-hero's self-titled, Dwayne Johnson-led solo movie. Perhaps Black Adam could also work as a lead-in for the next Suicide Squad movie, too, considering the character would join Task Force Xin Suicide Squad Vol. 1, Issue #58 in 1991.
Black Manta
A DC character who has already had his moment in the spotlight is Black Manta, who made his live action debut in 2018's Aquaman and will return when Aquaman and the Lost Kingdom hits theaters in 2022. The vengeful, armored mercenary (whose real name is David Kane) was actually a later addition to the Task Force X lineup, but the former HBO's Watchmen cast member Yahya Abdul-Mateen II is so good in the role (and everything else he does, really) and putting him in a Suicide Squad movie would be a great way to keep him in the DCEU even longer.
Poison Ivy
The most seductive and environmentally conscious member of Batman's rogues gallery is easily Poison Ivy - a character many DC fans would love to see reimagined on the big screen again since the last time was in 1997's Batman & Robin, as played by Uma Thurman. Plus, adding the plant manipulator onto the Suicide Squad, like she was in the comics in the late 1980s, would be the perfect way to explore Ivy's relationship with Harley Quinn in the DCEU, which Margot Robbie has already petitioned for.
Killer Frost
Another former scientist who turned to a life of crime after some strange experimentation changed her DNA is Killer Frost - which is actually a name used by a few different cryokinetic women in the DC Multiverse, from Crystal Frost to Caitlin Snow (whom Arrowverse fans should recognize as Danielle Panabaker's The Flash character). I do not think it would matter which iteration of the villain the DCEU goes with, but as a Suicide Squad staple since early into John Ostrander's run, putting her in the next movie would be a must.
Shrapnel
A powerless version of Shrapnel - a being made up of plates of organic metal that double as explosives in the comics - appeared in Arrow Season 2 in which he, ironically, was killed by Amanda Waller's explosive implant after trying to escape the mission. I also love the irony of a man who is naturally explosive enlisted for a team that threatens its members with explosives if they fail to comply, which is exactly why seeing him join the DCEU's Suicide Squad sounds intriguing to me.
Plastique
Explosives are also a specialty of Bette Sans Souci, a terrorist whose prime objective was to make Quebec a separate territory from Canada and went by Plastique when facing off against Firestorm when she was first introduced in the early 1980s. She was also an early addition to John Ostrander's Suicide Squad and has made several appearances on Task Force X since, but, again, her ironic association with bombs is what really intrigues me.
Copperhead
Both Suicide Squad movies so far have featured at least one strange, animalistic mutant on the line-up, namely with Adewale Akinnuoye-Agbaje's Killer Croc in the 2016 movie and Sean Gunn as Weasel and Sylvester Stallone as King Shark in James Gunn's flick). I say we should keep the tradition going, but change things up just a bit by adapting the original iteration of Copperhead, who is not an actual giant snake, but dresses like one and uses his contortionist skills to mimic the animal's slithery movements. Imagining him and Killer Croc on the same team actually sounds hilarious to me.
Sportsmaster
Speaking of hilarity, in keeping with the tradition James Gunn started off bringing in more obscure and somewhat laughable villains on Task Force X (like he did with Polka-Dot Man), I think another great candidate for that role (whom Gunn had previously considered for The Suicide Squad) would be Sportsmaster. This failed athlete turned criminal lives up to his name with sports-themed weaponry baseball bat-shaped rockets, lacrosse snare nets, and exploding hockey pucks. This guy could give Polka-Dot Man a run for his money in terms of humor.
Count Vertigo
Of course, the unexpected layer of humanity and emotional struggles are what made David Dastmalchian's Polka-Dot Man worthy of empathy in The Suicide Squad and another character who could receive the same treatment is Count Vertigo. The Eastern European aristocrat suffers both from bipolar disorder and, aptly so, vertigo, which would frequently cause him to struggle with completing missions with Task Force X. These are the sorts of characteristics that are rarely explored in villainous characters and would be a unique opportunity for the DCEU to explore.
I also would not mind to see a few other members from the 2016 Suicide Squad cast come back for another mission on Task Force X, such as Will Smith as Floyd "Deadshot" Lawton, or current The Boys cast member Karen Fukuhara as Katana, or Adewale Akinnuoye-Agbaje to see if he could get more lines as Killer Croc this time. Of the potential newcomers I have listed above, which one would you be most interested to see join the team in another new movie?
This poll is no longer available.
Jason has been writing since he was able to pick up a washable marker, with which he wrote his debut illustrated children's story, later transitioning to a short-lived comic book series and (very) amateur filmmaking before finally settling on pursuing a career in writing about movies in lieu of making them. Look for his name in just about any article related to Batman.
Your Daily Blend of Entertainment News
Thank you for signing up to CinemaBlend. You will receive a verification email shortly.
There was a problem. Please refresh the page and try again.