Val: What To Watch If You Like The Val Kilmer Documentary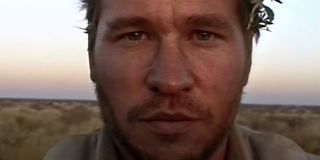 CinemaBlend participates in affiliate programs with various companies. We may earn a commission when you click on or make purchases via links.
Val Kilmer has been a major player in Hollywood for nearly 40 years now, but it seems like the Juilliard-trained actor never really got to tell his story until the release of his Val documentary. One of the best movies on Amazon Prime, this personal journey through Kilmer's life, career, and battle with throat cancer is told through decades of personal footage that the actor captured at home, on the sets of some of his biggest movies, and other places around the world that are near and dear to his heart.
After finishing Val, you may be wondering about other documentaries to watch that capture some of the same energy or break down the barriers actors, singers, and other celebrities put around themselves. Below is a collection of some of the best documentaries that fit that mold, as well as where you can watch some of the movies featured in Val in case you've never seen them before or just want to go back for a rewatch…
Kid 90 (Hulu)
The 2021 Hulu documentary Kid 90 follows Punky Brewster star Soleil Moon Frye as she examines thousands of hours of personally recorded video dating back to the late 1980s, though it spends the majority of its runtime detailing her post-sitcom life in the early 1990s, including being young and in love in New York City. By exploring her own troubled past, grief, and the meaning of life, Frye provides audiences with a stripped down and unfiltered glimpse into her chaotic journey.
Why it's worth checking out: Just like Val Kilmer, Soleil Moon Frye has long been obsessive about capturing nearly every moment of her life on film and Kid 90 does a remarkable job of turning boxes and boxes of videotapes into a moving story of a young woman trying to discover who she is and what she wants to be.
Robin Williams: Come Inside My Mind (HBO Max)
Released four years after the shocking August 2014 death of the comedy legend, Robin Williams: Come Inside My Mind is a hilarious, heartbreaking, and intimate examination of the late icon and his journey from a fledgling standup comedian to one of the biggest figures in pop culture. Told mostly through his own words (which are played over rare or never-before-seen footage) paint a beautiful picture of this warm soul.
Why it's worth checking out: Like Val, Robin Williams: Come Inside My Mind is just as much of a time capsule as it is a moving documentary film and takes viewers through multiple periods in the comedian-turned-actor's life and career, pulling back layer after layer to expose the beating heart behind the energetic and charismatic figure.
Stream Robin Williams: Come Inside My Mind on HBO Max.
Rent Robin Williams: Come Inside My Mind on Amazon.
I Am Heath Ledger (Hoopla)
The 2017 documentary I Am Heath Ledger takes footage the late actor compiled on his personal video camera throughout his life and career and paints a brilliant portrait of the artist whose fire was extinguished far too early. Supplemented with interviews of those who knew Ledger better than anyone else, this eye-opening exploration of the actor's spirit.
Why it's worth checking out: Much like Val, I Am Heath Ledger helps show a side of Academy Award-winning actor that goes beyond movie star and instead into the realm of endearing and expressive artist who lived his life full of passion, love, and a desire to never stop learning or caring.
Stream I Am Heath Ledger on Hoopla.
Rent/Buy I Am Heath Ledger on Amazon.
Miss Americana (Netflix)
One of the best movies on Netflix, Miss Americana follows Taylor Swift as she completes her massive Reputation Stadium Tour and begins work on her Grammy-nominated album Lover, while also showing a more emotional and raw side of the pop star that has rarely been seen before. This emotional and transformative journey also sees Swift pull back her armor to expose her struggles and feelings on the world around her.
Why it's worth checking out: There is something about documentaries like Miss Americana and Val that tell you more about a person in a couple of hours than you have known for years watching them on stage or on the screen. Both are highly intimate and shed a light on each artist that shows them as real people and more than just performers.
Stream Miss Americana on Netflix.
Amy (Showtime)
The 2015 documentary Amy details the unparalleled rise to fame experienced by British jazz-pop vocalist Amy Winehouse as well as how that the chaos of a life in public view can have an impact on someone. Released four years following her shocking death in July 2011, this personal exploration of Winehouse's spirit and legacy is at times extremely uplifting while at others a sad cautionary tale.
Why it's worth checking out: Hearing someone's story being told through their own words is just one thing Amy and Val have in common. These two touching documentary films also show artists in crisis and how they try to not lose touch of who they are in the midst of superstardom.
Madonna: Truth Or Dare (Amazon Rental)
One of the most iconic music documentaries of all time Madonna: Truth or Dare follows the legendary pop star at the height of her fame: during the famous 1990 Blond Ambition World Tour. With a combination of footage from on stage as well as behind the scenes, the documentary shows all the different sides of Madonna and how she made the most of her fame and power during one of the craziest periods of her life.
Why it's worth checking out: When Madonna: Truth or Dare was released in 1991, it was loved by fans and revered by critics for the way it helped demythologize Madonna the superstar and show the caring, loving, and highly driven woman behind the persona. Thirty years later, Val doe something similar in showing a more vulnerable side of one of Hollywood's leading men.
Rent/Buy Madonna: Truth or Dare on Amazon.
Real Genius (Amazon Rental)
One '80s movie that is due for a revisit at some point, Real Genius follows Pacific Tech freshman Mitch Taylor (Gabe Jarret) during his freshman year of college, but the real star is his senior roommate Chris Knight (Val Kilmer), a brilliant scientist who is a charming and funny as he is smart. While working on a laser project that is believed to be impossible, the unlikely pair become close friends.
Why it's worth checking out: Touched on briefly in Val, this 1985 comedy sees a young and on-the-rise Val Kilmer, one that you want to go back and revisit after seeing where his head was at during this stage in his career.
Rent/Buy Real Genius on Amazon.
Top Gun (1986)
Tony Scott's Top Gun may be an overly-macho love letter to the military-industrial complex, but there are plenty of reasons this 1986 summer blockbuster is still one of the most talked about, quoted, and beloved action movies of all time. Centering on the rivalry between Maverick (Tom Cruise) and Iceman (Val Kilmer) this quintessential '80s movie sees the two hotshot pilots duke it out at the most prestigious fighter pilot school.
Why it's worth checking out: A large chunk of Val is devoted to the making of Top Gun, and for good reason. This was the movie that took everyone involved, including Val Kilmer, to the next level. And after learning about how Kilmer added his own flash to the character of Iceman, you know want to revisit this classic.
Willow (Amazon)
Directed by Ron Howard, the 1988 fantasy film Willow tells the story of an unlikely hero named Willow Ufgood (Warwick Davis) as he is tasked with breaking free of the doldrums of everyday life to protect a young child from forces of evil. Though a seemingly impossible task, Willow's journey is made all the more achievable thanks to the swordsman Madmartigan (Val Kilmer).
Why it's worth checking out: In Val, it is revealed that Kilmer met his ex-wife Joanne Whalley on the set of Willow (a few years after he couldn't get the nerve to talk to her in London), which starts the next chapter of his life. There is that reason as well as the fact that this fantasy story is one of the best of its kind.
The Doors (HBO Max)
Oliver Stone's 1991 biographical drama The Doors tells the story of the seminal American rock band and its free-spirited frontman Jim Morrison (Val Kilmer). Not holding anything back in its portrayal of the late rock and roll singer, the film focuses on what made Morrison the legend fans love years after his death as well as part of his personality that drove away those who knew and loved him the most.
Why it's worth checking out: In Val, it is shown just how much Val Kilmer (and his young family) sacrificed while he was preparing to take on the role of Jim Morrison, which pushed everyone to their limits and then some.
Tombstone (Amazon)
Released in 1993, the western epic Tombstone tells the tale of Wyatt Earp (Kurt Russell), his two brothers, and best friend, Doc Holliday (Val Kilmer), as the gang attempts to settle down and clean the boomtown of the ruthless Cowboy gang and its deplorable and lawless ways.
Why it's worth checking out: There are few movies that get discussed in Val as much as Tombstone, and there's a good reason for that: it's one of Val Kilmer's best movies. On top of that, it is also one that we associate Kilmer with the most today, a point that is proven with the Tombstone festival the actor attends near the end of the documentary.
The Island Of Dr. Moreau (Amazon Rental)
Based on H.G. Wells' novel of the same name, the 1996 sci-fi horror movie The Island of Dr. Moreau follows United Nations negotiator Edward Douglas (David Thewlis) as he becomes stranded in a community of ghastly creations from the mind of mad scientist (Marlon Brando) that go beyond terrifying.
Why it's worth checking out: Although panned by critics and avoided by audiences, The Island of Dr. Moreau did give Val Kilmer the opportunity to work with his hero: Marlon Brando. This is shown in great detail throughout Val, even if production on the movie was a literal nightmare.
Rent/Buy The Island of Dr. Moreau on Amazon.
And this is just the beginning of all the movies worth checking out after taking in Val. The documentary sheds so much light on Val Kilmer's various projects over the years and really gives you a better understanding of the artist behind the man.
Philip grew up in Louisiana (not New Orleans) before moving to St. Louis after graduating from Louisiana State University-Shreveport. When he's not writing about movies or television, Philip can be found being chased by his three kids, telling his dogs to stop yelling at the mailman, or yelling about professional wrestling to his wife. If the stars properly align, he will talk about For Love Of The Game being the best baseball movie of all time.
Your Daily Blend of Entertainment News
Thank you for signing up to CinemaBlend. You will receive a verification email shortly.
There was a problem. Please refresh the page and try again.