Watch The Rock Make So Many Fans' Days As He Pulls Up Alongside A Celebrity Tour Bus In LA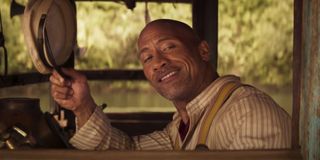 Interacting with fans comes with the territory of being a famous celebrity. While some stars try to avoid being recognized with the help of baseball caps and oversized sunglasses, Dwayne "The Rock" Johnson does things a little differently (also, it's kind of hard to hide those insane biceps). The former WWE champ has always been gracious, but he kicked it up a notch when he surprised some fans in Los Angeles over the weekend by literally pulling up alongside their tour bus.
Dwayne Johnson was out for a morning drive in his pick-up truck last Saturday when he spotted a celebrity tour bus making the rounds in Los Angeles. Naturally, being the awesome human that he is, The Rock decided to stop by and say hello. He posted the entire encounter on Instagram, which you can check out below.
Dwayne Johnson humorously asks if anyone knows where he can find The Rock, but the fans realize who he is almost immediately. Sure, their screams may have shattered some nearby windows, but can you blame them? They paid for a celebrity house tour, not a meet and greet with one of the biggest movie stars in America. They just look so happy, especially the woman in the red jacket who was grinning ear to ear and enthusiastically thanking The Rock for swinging by.
Dwayne Johnson made sure everyone was doing well before thanking everyone for their support and shouting back "I love you, too" to a particularly enamoured fan before driving away. The Rock seemed to have a good time too: he finished out the video by declaring it was a great way to start his Saturday. In the Insta post caption, he said one of the best parts of his job was the chance to make "a few folks happy." Based on the jubilant cheers of the fans, it sounds like Dwayne Johnson definitely accomplished that goal.
Staying connected with his fans has always been a priority for Dwayne "The Rock" Johnson. When his Disney film Jungle Cruise was released in theaters, The Rock took to Instagram to let fans know that the movie was also available on Disney+. He said that he always wanted to give people the chance to enjoy his movies in comfort, saying that the safety of their families comes first.
The Hobbs & Shaw star also constantly shares behind the scenes tidbits for his various projects with fans on social media to keep them in the loop, especially for movies he knows people are excited about. Case in point: DC's Black Adam, a film long-awaited by both Dwayne Johnson and comic book fans. From workout videos to script readings to movie stills, The Rock continues to deliver what the fans want.
Jungle Cruise is now playing in theaters and streaming on Disney+ with premier access.
Actor, singer, and occasional dancer. Likes: fashion, books, old buildings. Dislikes: cilantro, the NJ Turnpike, sneaker wedges.
Your Daily Blend of Entertainment News
Thank you for signing up to CinemaBlend. You will receive a verification email shortly.
There was a problem. Please refresh the page and try again.