Disneyland And WDW's Disney Genie: What It Is, How It Works And Other Things To Know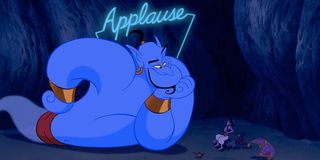 Going on vacation to Disneyland or Walt Disney World can be a complex trip to plan. In addition to all the standard things you need to plan for, like flights, hotel reservations, and food, there are attractions you want to be sure not to miss, the souvenirs you want to bring home, and a nearly endless list of special events to consider. Anything that could make this process easier would be welcome. And it is with that idea in mind that Disney Genie has been introduced. Disney Genie is a brand new element inside the Disney Parks apps that will, according to Disney, give guests more control over their visit, including among many other things, Lightning Lanes to let guests skip some lines.
While the Lightning Lane side of Disney Genie has been the part of the new service to get the most attention, there's a lot more going on with this new addition. There's a lot more it can do. So just what is Disney Genie, what is it capable of, and how do you make it all work? Let's dive in and cover everything you need to know.
How Do You Get Disney Genie?
Getting Disney Genie is easy enough as it will become a built-in part of both of the existing apps that guests use to navigate Disneyland and Walt Disney World. Downloading the Disneyland app or the My Disney Experiences app (for Walt Disney World) should be a given at this point. If you're going to visit either park, you need the appropriate app.
Once you have the app, and login with your Disney account, you'll have access to its features. Exactly when Disney Genie will be available is unclear beyond a general "fall" timeline. It's possible that the service could hit one park before the other, and there's a very good chance it will be available at Walt Disney World by October 1, the start of the resort's 50th anniversary celebration.
How Does Disney Genie Work?
The core focus of Disney Genie is to make planning your Disney vacation easier. In the past, guests were expected to do a lot of their trip planning early, with dining reservations available six months out and Walt Disney World offering FastPass+ windows 60 days in advance. Disney Genie's focus is on being more flexible, allowing guests to make, and change, plans on the fly.
Disney Genie's core functionality is building an itinerary for your day. By telling the Genie what attractions you want to do, or what sorts of things you like, it can build an itinerary for you. It can suggest hitting a particular ride at a certain time of day when the line is usually shorter, and then suggest a place nearby to get some food when you're done. It will handle mobile ordering as well as making dinner reservations. And for people who want to plan even less in advance, the app will still track attraction wait times, letting you know when a good time to hit your favorite ride is going to be.
What Is Disney Genie+?
Disney Genie is a free service that any guest at Disneyland or Walt Disney World will have access to. However, there will be some additional features of Genie available for purchase, the main one of these is called Genie+. For an added fee of $15 per ticket per day at Walt Disney World, and $20 per ticket per day at Disneyland Resort, guests will get access to some additional features, the main one being access to Lightning Lanes.
Lightning Lanes will work very similarly to the old FastPass system at the parks. Guests will be able to use the Genie to look at attractions and select the next available window to return to a ride and skip most of the line. Guests will be able to pick one ride at a time and use Genie+ all day long to skip the lines on many attractions. The vast majority of the attractions that used FastPass previously will be part of Genie+, but there will be some exceptions, which we'll get to.
What Additional Services Does Disney Genie+ Offer?
While the Lightning Lane access is sure to be the main focus, and the main attraction of those using Genie+, there are other features that you'll get for your added fee. For example, as was the case with Disneyland's MaxPass, which the new Genie+ system most closely resembles, PhotoPass will also be part of the offering. This means that photos taken by any official Disneyland photographer will be yours to keep for no additional cost.
While PhotoPass won't be free with Genie+ at Walt Disney World, guests there will gain access to special PhotoPass AR Lenses, which will allow guests to take their own pictures with their favorite Disney characters in the background. Guests at both parks will also gain access to special audio experiences, which sound like they're almost your own guided tour of Disneyland and Walt Disney World, with Walt Disney Imagineers and others giving you a behind-the-scenes look at the parks and attractions.
How Do Individual Attraction Selections Work?
While most of the major attractions that fans love will be available to skip the lines as part of Genie+, not all rides will be. Some of the top tier attractions will have their own separate line skipping option, which will have a separate cost, per attraction. While exactly which rides will use this feature have not been fully disclosed, Rise of the Resistance, in Star Wars: Galaxy's Edge at both Disneyland and Disney's Hollywood Studios, as well as the Seven Dwarfs Mine Train at Magic Kingdom and Radiator Springs Racers at Disney California Adventure, have all been mentioned by name.
In these cases, guests will be able to use Disney Genie to select a return time and skip the line, not unlike the rest of Genie+, but upon doing that guests, will need to pay an additional fee. Exactly how much the fee will be has not been announced, and it will not be a set a fee anyway. The cost will vary depending on the ride, and depending on the day, so the cost will likely be higher for newer more popular rides and during high capacity times like the summer and holiday season.
How Does Disney Genie Work For Annual Passholders?
If you're an Annual Passholder at Walt Disney World or a new Magic Key holder at Disneyland, you might expect something like Genie+ to be included in the cost of your pass. Or at the very least, there might be an add-on that would give you year long access. However, at least to start, that won't be the case. While Disney has already stated that options like that might be made available down the road, at least to start, APs and Magic Keys will need to buy Genie+ the morning of their visit, and it will cost them the same as everybody else.
There's still a lot we don't know about Disney Genie, so we'll keep this piece updated as new details are released. If everything works as advertised, then Disney Genie could be a great new addition to the parks. While a lot of people are unhappy about the additional costs, they could ultimately prove to be worth it.
CinemaBlend's resident theme park junkie and amateur Disney historian. Armchair Imagineer. Epcot Stan. Future Club 33 Member.
Your Daily Blend of Entertainment News
Thank you for signing up to CinemaBlend. You will receive a verification email shortly.
There was a problem. Please refresh the page and try again.