M. Night Shyamalan Talks 'Knock At The Cabin'
The director is back on ReelBlend for another great entry to his filmography.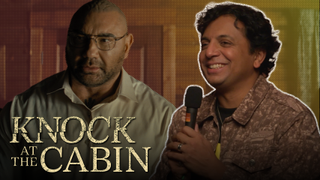 (Image credit: Universal PIctures)
M. Night Shyamalan returns to discuss the making of his new film Knock at the Cabin, starring Dave Bautista, Rupert Grint, and Jonathan Groff. We talk about some of the creative reasons behind the film's striking visuals, casting and working with young actors, whether or not he's considered connecting his films into one universe, the actor he wants to work with again, and more.
Stick around after the interview to hear our full, spoiler-free review of Knock at the Cabin as well as our reactions to DC Studios' new direction and slate of films under James Gunn and Peter Safran.
Timestamps (approx. only)
00:00:00 - Intro
00:07:04 - M. Night Shyamalan Interview
00:26:58 - James Gunn's DC Studios Slate Announced
00:51:29 - Knock at the Cabin Review
01:04:57 - Our Favorite M. Night Shyamalan Movie
01:22:19 - Outro
Want More ReelBlend?
Sign up for our premium membership, which includes an extra episode a week, a bi-weekly newsletter from Sean, and ad-free episodes. Also, be sure to subscribe to ReelBlend on YouTube for full episodes of the show in video form. Finally, we have all kinds of fun merchandise for dedicated Blenders to flaunt their fandom with pride.
Your Daily Blend of Entertainment News
Video Producer & Podcast Lead
Gabe studied Film & Photography at Webster University. He currently spends his free time looking like a fool trying to play Ice Hockey (a recently acquired hobby), playing video games, and watching every movie starring Dwayne "The Rock" Johnson. Dwayne, if you're reading this...he sends his love.