Talking 'Sharper' & 'Andor' With Director Benjamin Caron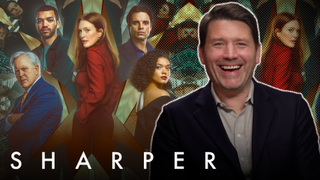 (Image credit: Apple TV+)
Director Benjamin Caron joins ReelBlend to discuss his new film Sharper, starring Sebastian Stan, Julian Moore, and Justice Smith. We also discuss his episodes of the Disney+ Star Wars series Andor.
After this week's interview, we react to AMC Theatres' plans for new ticket prices based on seating preference.
Timestamps (approx. only)
00:00:00 - Intro
00:07:28 - Benjamin Caron Interview
00:44:44 - AMC Theatres Ticket Pricing Changes
01:13:29 - Dave Franco's Somebody I Used To Know Review
01:17:24 - Sharper Review
01:20:48 - Our Favorite Movie Couples
01:37:55 - Outro
Want More ReelBlend?
Sign up for our premium membership, which includes an extra episode a week, a bi-weekly newsletter from Sean, and ad-free episodes. Also, be sure to subscribe to ReelBlend on YouTube for full episodes of the show in video form. Finally, we have all kinds of fun merchandise for dedicated Blenders to flaunt their fandom with pride.
Your Daily Blend of Entertainment News
Video Producer & Podcast Lead
Gabe studied Film & Photography at Webster University. He currently spends his free time looking like a fool trying to play Ice Hockey (a recently acquired hobby), playing video games, and watching every movie starring Dwayne "The Rock" Johnson. Dwayne, if you're reading this...he sends his love.