The Only 10 Celebrity Halloween Costumes You Need To See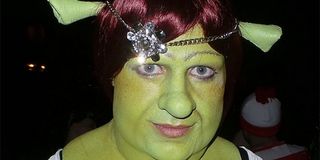 When executed well, the perfect Halloween costume can afford the wearer a night of bountiful candy. In the case of celebrities with limitless budgets and only a sweet tooth for fame to satisfy, a great costume has the potential to transform them into social media legends; Halloween Hall of Famers that join the ranks of Heidi Klum in their masked exploits. If the internet is to be trusted – by which I mean this internet page, right here – these are the stars that really impressed this year…
Kate Hudson
Dang, Kate Hudson's mom! And Kate Hudson for that matter as the mother-daughter duo threw a sexy Sons of Anarchy themed party in leather biker outfits.
North West
There's something stinky on the loose in Kim Kardashian's house and for once it's not a pair of Rob's used socks – how's that line going by the way? If you're into babies and road kill then you would definitely think North West is the cutest skunk south of Route 50, but I'm somewhat surprised (and grateful) to see that this fashion-forward tot opted for faux.
Taylor Swift
You've never heard of a Pegacorn before? Allow New York City's global tourism ambassador educate you on this most elusive creature. As a nod to her appearance on Jimmy Fallon's "Ew!" segment, when she played a nerdy teen who invents the Pegasus-come-unicorn, T-Swizzle dressed like the winged animal to go door-to-door, haunting boyfriends of heartbreaks past. Or whatever else it is she does in Tribeca.
Chris Colfer
Here's the kid from Glee, not that whiny singing one, the other whiny singing one who plays Kurt Hummel. If you are a Glee fan then you'll undoubtedly recognize his face, but maybe not so much in the Grumpy Cat getup he wore to Matthew Morrison's Halloween Bash. Just look at him walking tall on his hind legs, so attuned to internet culture of yore.
Jessica Alba
Jessica Alba as Slash – would you? I kind of love it when women go all out for Halloween and don't just resign themselves to wearing lingerie and "some form of animal ears." Besides, it's not like we don't see enough of sexy Jessica the rest of year. Kudos to her for finally going ugly for a role.
Colton Haynes
When he's not in costume he's Roy Harper, but on one very special night of the year, thanks to a spell that can only be broken by finding his one true love, Arrowstar Colton Haynes transforms into the ogress form of Princess Fiona.
Tallulah Willis
This is Tallulah Willis. Daughter of Bruce Willis. She is a foot. There's nothing more I can really say about this photo other than Tallulah Willis is dressed like a foot.
Katy Perry
Katy Perry's obsession with dressing as and with food stuff goes way back. The woman's a bona fide vending machine, but having graduated from dispensing whipped cream from her lady lumps, she's now started dressing like tasty salted snacks. A freakin' Flaming Hot Cheeto to be exact. Is this possibly the best costume of Halloween 2014?
Liv Tyler
Pregnant Liv Tyler puts her swollen baby bump to good use with her "bun in the oven" costume. You've got to admit it's kind of adorable… Admit iiiiiitt……
Ed Sheeran
Yeah baby! Groovy baby, yeah! Ed Sheeran sometimes struggles with the idea of fans finding him attractive, but harnessing his inner Austin Power, he finally has the confidence to unleash his sexual prowess. Now where did that Pegacorn get to?
Your Daily Blend of Entertainment News
Thank you for signing up to CinemaBlend. You will receive a verification email shortly.
There was a problem. Please refresh the page and try again.