The Real Reason Kylie Jenner's Boobs Look So Good Right Now Is Kind Of TMI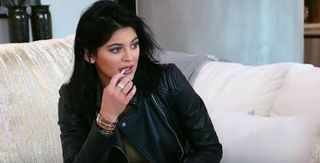 Kylie Jenner just posted a controversial photo on Twitter, and it's sparking comments about where her new and clearly enhanced cleavage suddenly came from. Fans and trolls alike are all wondering just how she did it, likely so they can try the method themselves. Is she using Kim K's tape method? Or maybe there's an app for that? Jenner labeled her response to these tweets as TMI but it still has got many of her followers wishing she'd just keep it to herself.
The photo that started the conversation depicts a heavily made-up Kylie under professional lighting holding up a glass of water in a seriously low cut tank top. While the tweet was intended to show off her new blue Lokai bracelet, her cleavage stole the show in true Kardashian fashion. Even though Kylie claims Aunt Flow is to thank for how the girls look in the photo, it's likely a result of her makeup team having finally mastered cleavage contouring. It's been over a year since she walked down the red carpet in London for the Nip+Fab launch which resulted in a serious contour malfunction that had been intended to give the illusion of a bigger chest and instead gave her a discolored and awkward looking cleavage. It'll be quite a while before the public lets her live that one down, but at least Lokai is getting more than what they paid for since this photo went viral:
While PMS can certainly give the girls a boost, it's understandable why some of the reality star's Twitter followers are accusing her of having gone under the knife to achieve her augmented look. It wouldn't be the first time someone from the Kardashian clan had gotten surgery and claimed to have naturally transformed overnight. Even Kylie herself had denied having any work done and still will only admit to enhancing her lips after she resurfaced over a year ago with a completely different face. So, when asked by a Twitter user when she got her breasts done rather than if, it's no surprise that she shot down the fan before rumors could start.
At just eighteen years old, Kylie seems to be taking a page out of older sister Kim K's book when it comes to all of the cosmetic procedures and beauty enhancements that she has endured, now looking more like her sister's mini me than anything resembling her past self. She might not have had a breast augmentation but if the number of procedures she's had before reaching the legal drinking age even slightly indicates the path that she's heading down, then it's only a matter of time.
Your Daily Blend of Entertainment News