How Justin Timberlake Feels About Recording A Song With Britney Spears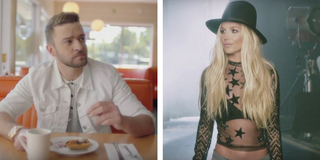 (Image credit: Youtube)
Dust off your denim, because it sounds like the early 2000s are about to repeat themselves pretty soon. Everyone's favorite boy band-era It couple have recently each stated that they would be open to working together on a new music.
Recently, Britney Spears listed her ex Justin Timberlake among a number of musicians that she would love to work with, and when JT heard the news, he responded with equal enthusiasm to the idea. The new father told E! Online that he would "absolutely" be open to getting into the studio with his former flame at the premiere of his new Netflix doc Justin Timberlake +The Tennessee Kids.
Justin Timberlake's statement is in response to a Q&A that Britney Spears did at the end of August, in which she said a few of her dream collaborators included Aerosmith, Gwen Stefani, and Justin Timberlake. Spears' inclusion of Timberlake sparked media interest since the two famously dated in the early 2000s at the beginning of their music careers, and have never recorded music together.
Though the pair have never really worked together, their public breakup did inspire some of their best known singles. Justin Timberlake's earliest solo smash was the breakup groove "Cry Me a River," which included a Britney Spears look-alike in the music video. For her part, Spears actually passed on a somewhat snide comeback track called "Sweet Dreams My LA Ex" (which went on to be recorded by S Club 7's Rachel Stevens), and instead released the more reflective ballad "Everytime," which was reportedly a response to "Cry Me a River."
A lot has changed in the more-than-a-decade since their breakup, but Britney Spears and Justin Timberlake are still huge stars. Both have released new music in recent months after pretty lengthy breaks from the studio --- Spears' (fantastic) ninth studio album Glory dropped less than a month ago and Timberlake staked his bid for song of the summer with the infectious single "Can't Stop the Feeling!" As you'd expect after so many years in the industry, the two singers have also evolved musically since the time they were together. Spears has left the sweet, bubblegum pop of her early years behind for synth-infused club bangers, and Timberlake ditched the boy band pop along with NSYNC to focus more on R&B and funk.
One realm in which the two have not shared a trajectory is their romantic lives. Justin Timberlake has been married to Jessica Biel since 2012, and welcomed his first son last year. Unfortunately, Spears hasn't had as much luck finding a partner, but she is the mother to two boys that she often shares photos of on Instagram.
Your Daily Blend of Entertainment News
Your Daily Blend of Entertainment News
Thank you for signing up to CinemaBlend. You will receive a verification email shortly.
There was a problem. Please refresh the page and try again.