Wait, Did Ryan Gosling And Eva Mendes Secretly Get Married?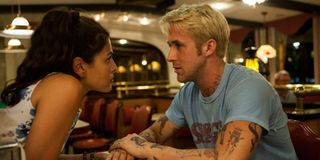 (Image credit: The Place Beyond the Pines)
In a week when celebrity love seems doomed (RIP Brangelina), leave it to Ryan Gosling and Eva Mendes to restore our faith... maybe. The two Hollywood heartthrobs reportedly got married in a secret ceremony earlier this year, but some sources are denying the marriage took place.
According to recent rumors, Ryan Gosling and Eva Mendes tied the knot in front of family and friends at a hush-hush ceremony sometime this year, sources have told Us Weekly. One of the sources even went on to dote on the couple, saying that they've always felt like they were married.
However, TMZ's sources have denied that the wedding happened, stating that Gosling and Mendes are still just dating one another. What to believe!?
The reason a secret wedding wouldn't come as too much of a surprise is that Ryan Gosling and Eva Mendes have kept their relationship largely out of the public eye, even though they've been dating for five years. Earlier this year, Gosling and Mendes managed the difficult task of keeping Mendes' pregnancy under wraps until just a month before the birth of their second daughter Amada.
Ryan Gosling and Eva Mendes began dating in 2011, and went on to costar in the crime drama The Place Beyond the Pines together a year later. They welcomed their first daughter Esmeralda in 2014.
Ryan Gosling has had a couple of high profile relationships with costars before meeting Eva Mendes. He briefly dated Sandra Bullock after starring in Murder by Numbers with her in 2002, and then had a relationship with his The Notebook costar Rachel McAdams for a few years. Eva Mendes' only major relationship before Gosling was with filmmaker George Augusto, whom she dated for nearly a decade. Towards the end of her relationship with Augusto, Mendes even told HollywoodLife that she doesn't "think marriage is necessary." Has she changed her tune with Gosling?
Once seemingly everywhere on the big screen (she did five different movies in 2007), Eva Mendes has slowed down her acting career in recent years, most likely due to two recent pregnancies that immediately followed one another. The last movie that she had a part in was Ryan Gosling's 2014 directorial debut Lost River, which he also wrote. She's currently filming the upcoming sequel Fast 8, in which she reprises her role in the franchise as Monica Fuentes.
For his part, Ryan Gosling seems to be moving away from the smaller indie films that have fascinated him in the past few years and into bigger budget blockbusters. He followed up his role in last tear's Oscar winning The Big Short with the goofy buddy cop flick The Nice Guys, and is costarring with Emma Stone in the buzzy musical rom-com La La Land. In 2017, Gosling is hedging his bets with a massive blockbuster (the Blade Runner sequel) and a prestige film sure to catch the eyes of the Academy (Terrence Malick's Weightless, with Christian Bale, Cate Blanchett, Natalie Portman, Michael Fassbender, and Rooney Mara).
If TMZ's response to the original rumor proves to be accurate, Ryan and Eva didn't secretly wed, but we'll have to wait and see if further updates emerge.
Your Daily Blend of Entertainment News
Your Daily Blend of Entertainment News
Thank you for signing up to CinemaBlend. You will receive a verification email shortly.
There was a problem. Please refresh the page and try again.