Bride Performs A Beyonce Routine For Her Groom, And It's Perfection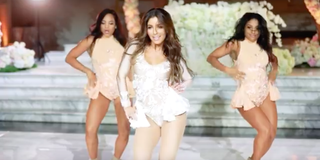 Who runs the world? This girl! Or, at least she definitely was while nailing some incredibly impressive choreography to a Beyoncé medley on her wedding night. The dancing bride turned her wedding reception into an arena where she pounded out a killer dance set, and her gave her new buggy the front row seat. Oh, and I don't want to forget to mention this, because it's very important: she was wearing high heels the whole time! Check it out.
The bride's name is Melissa Molinaro, and as is made very clear in the above wedding video, she's a skilled dancer and choreographer by trade. Molinaro's routine begins with a sweet performance to Lil' Mo's romantic track "4Ever," and then the lights flicker as Beyoncé's fast-paced 2006 single "Upgrade U" begins to play, and the bride welcomes all five of her backup dancers to get in formation on the floor for a high energy hip-hop routine. Finally, the dancers hit a floor-stomping transition into Bey's dance track "End of Time," which culminates in Molinaro bringing her husband on the floor and dancing circles around him before she invites all of her guests to join in.
If you think Melissa Molinaro looks familiar, that's probably because she's been working all over the entertainment industry for years, and not just as a dancer. Molinaro is an actress who's appeared in sitcoms like The Game and How I Met Your Mother, as well as movies such as Command Performance and Honey 2.
She's also a singer who was incredibly close to being in two major girl groups: Danity Kane and the Pussycat Dolls. Melissa Molinaro was a contestant on both of the reality shows that served to form those groups --- Making the Band 3 and Pussycat Dolls Present: The Search For the Next Doll, respectively --- but was cut right before the finale on both. She's since put out her debut solo album The Love/Dance Project.
But despite all of that, Melissa Molinaro is perhaps most famous for an Old Navy commercial. She sang and danced in a 2011 ad for the retailer called "Super C.U.T.E.," which instantly went viral due to the fact that many viewers noted a similarity in Molinaro's looks and those of Kim Kardashian. The commercial garnered so much attention that Kardashian actually sued Old Navy for appropriating her identity, but the case was settled outside of court.
Well, hopefully after that incredible Beyoncé video, Molinaro will be known for more than just looking kind of like Kim Kardashian.
Your Daily Blend of Entertainment News