Kylie Jenner Got Called A Prostitute On Twitter, Completely Crushed The Troll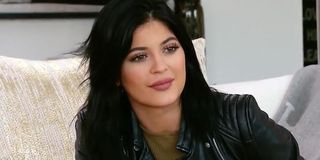 (Image credit: Keeping Up With the Kardashians)
After a lifetime in the limelight, the Kardashian-Jenner clan has pretty much already heard everything that their haters can dish out, and have come up with the perfect response. The family's youngest, Kylie Jenner, proved that point on Monday by posting the perfect clapback to a tweet calling her a prostitute.
A Twitter user tagged Kylie Jenner in a post in which he said she "looks like a 14 year old prostitute." Jenner responds simply by correcting the age that he ascribed to her.
The beauty of Kylie Jenner's response is that it doesn't attack the Twitter troll or even dispute the fact that was meant to be offensive. The Kardashian-Jenner girls have long been advocates for sex positivity and refusing to be shamed by their sexuality, but rather to embrace it. Because of this, many of their detractors have taken to criticizing their looks, turning the famous sisters into some of the most high-profile targets of slut shaming. Thankfully, as Kylie has shown, they know exactly how to handle the haters.
But it's not just random Internet trolls who have come after Kylie Jenner on Twitter recently. Her half brother Rob Kardashian recently posted her phone number to his Twitter account in order to get back at her for supposedly not inviting his fiancé Blac Chyna to his baby shower. Kardashian actually called out all of his sisters over the baby shower snub, but only targeted Kylie with the leaked phone number tweet. That choice was likely due to the romantic past that both Kylie and Rob's loved ones have shared, which apparently creates a bit of friction between them. Kylie's boyfriend Tyga was once engaged to Blac Chyna, and they even had a child together.
After the whole Twitter phone number ordeal, Khloe Kardashian appeared on The Ellen DeGeneres Show to clear up what had happened. Apparently, the family was planning a two baby showers for Rob Kardashian and Blac Chyna, and the first one was meant to be guys-only. Khloe explained that Blac Chyna knew about this baby shower, but Rob wasn't aware that his fiancé knew about it, so he exploded.
One Kardashian we haven't seen online for quite a bit of time is Kim. After her traumatic robbery at gunpoint in Paris last week, Kim Kardashian hasn't posted anything to her normally buzzing Instagram, SnapChat, or Twitter accounts. Sources close to her say that she is scaling back her use of social media because of the robbery.
Your Daily Blend of Entertainment News