Why Joe Jonas Revealed Who He Lost His Virginity To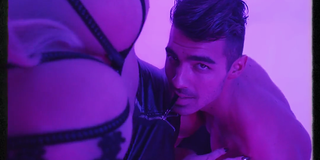 (Image credit: DNCE "Body Moves" video)
The purity ring is off, and so is the filter! Joe Jonas got incredibly honest during a Reddit AMA last week, revealing that he lost his virginity to Twilight actress Ashley Greene.
After the news went viral, Ashley Greene uploaded a photo to her Instagram account reading "Class is timeless," which many have interpreted as a shot at Joe Jonas for making their sex life so public. Jonas opened up to Entertainment Tonight this weekend about why he decided to get so candid and personal during the AMA, saying that he simply values honesty.
The whole story began last Tuesday, when Joe Jonas began answering fan questions on Reddit to promote a new music video called "Body Moves" by his band DNCE. While most celebrities choose to give brief answers to simple questions and avoid the outlandish, invasive questions during AMAs, it was immediately evident that Jonas wasn't shying away from anything.
One fan asked the singer who he lost his virginity to, and surprisingly, Joe Jonas obliged with a response. While he didn't specifically name Ashley Greene, he very obviously pointed to her as the woman with whom he first had sex, saying that "it was this girl named Ashley. You can probably just Google it." Sure enough, one Google search of "Joe Jonas Ashley" takes you straight to Jonas' 2010 relationship with Ashley Greene.
Though Ashley Greene didn't directly respond to the story, most fans are taking an Instagram photo of the words "Class is timeless" that she posted a couple days after the AMA as her upset response. You probably best recognize Greene from her supporting role as the vampire Alice Cullen in the Twilight film series.
Joe Jonas's sex life has been a topic of particular interest to some fans since his teenage years in the boy band the Jonas Brothers. As Disney-affiliated musicians, the three brothers famously wore purity rings to their concerts and public events, signifying that they would remain virgins until getting married. The only brother to remain true to the pact was eldest brother Kevin Jonas, who married former hairdresser Danielle Deleasa in 2009. Youngest brother Nick Jonas has also revealed that he chose to discontinue his purity ring after losing his virginity years back.
And Joe Jonas' frank honesty wasn't just limited to that one question --- the singer opened up about a whole wealth of topics, including how he really feels about Camp Rock, and the period of depression he went through when the Jonas Brothers disbanded. Get all the scoop from the bracingly honest AMA right here.
Your Daily Blend of Entertainment News