Chrissy Teigen Says She Would Be Kim Kardashian's Surrogate In A Second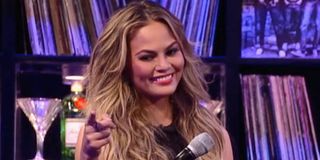 (Image credit: Lip Sync Battle)
Chrissy Teigen is ready to go above and beyond the call of friendship for bestie Kim Kardashian, should the reality star decide to have a third child. Teigen told a reporter on Wednesday that she would volunteer to be Kardashian's surrogate in a heartbeat. Now that is a good friend!
Chrissy Teigen admitted to Access Hollywood that she loved being pregnant and would absolutely do it again to help Kim Kardashian out. Throughout the later half of 2015, Teigen and Kardashian were both pregnant at the same time --- Teigen with her firstborn Luna Stephens and Kardashian with her second child Saint West --- and shared pregnancy and parenting tips with one another. Kardashian also helped Teigen find the doctor to help implement the in vitro fertilization that led to her pregnancy. After all that, it's no wonder Teigen is totally willing to help her friend out.
The topic of surrogacy came up because Kim Kardashian revealed that she is looking into the process for a third child. On last Sunday's episode of Keeping Up With the Kardashians, the reality star consulted doctors who told her that after some of the complications she experienced carrying her two children North and Saint West, using a surrogate would be the safest option for a possible third baby. The episode follows Kardashian as she debates whether or not to use a surrogate, ending with her saying that she is leaning towards surrogacy, but is still unsure.
Well, at least she can ease her mind about finding the perfect surrogate if she chooses to continue in that way --- Chrissy Teigen is ready to help!
Chrissy Teigen and Kim Kardashian have been close friends for several years. Earlier this year, Kardashian invited Teigen to record a video with her on her personal app to talk about their friendship, according to E! News. They revealed that they actually met in a bathroom while Kardashian was dating Reggie Bush, which would've been some time between 2007 and 2010, and that becoming mothers at around the same time has made their already close friendship even stronger.
Interestingly enough, both of the celebrities are focusing much more on their private lives in recent months, particularly in terms of their social media. Kim Kardashian has uncharacteristically been completely absent from all social media since she was robbed at gunpoint about a month and a half ago, and just a couple days after the robbery, Teigen followed suit by setting her Twitter account to private.
But anyway, be on the lookout for a Kardashian baby carried by non other than Chrissy Teigen.
Your Daily Blend of Entertainment News