The Kardashian Sisters Are Apparently Not Ok With Blac Chyna Trademarking Their Name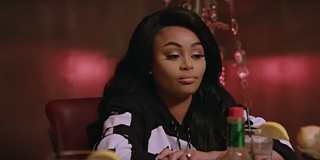 (Image credit: Rob & Chyna)
Well, Shakespeare clearly wrote that line before the Kardashians rolled into Verona to sell waist trainers to Juliet and create a reality empire that continues to thrive based on their name recognition. Blac Chyna knows better than to listen to 'ole Shakespeare on this one, but to get in on the Kardashian name, she might have to go up against her future sisters-in-law.
Reportedly, the Kardashian sisters are legally opposing Blac Chyna's request to trademark the name Angela Renee Kardashian, TMZ claims. The site says that it has documents sent from the companies of Kim Kardashian, Kourtney Kardashian, and Khloe Kardashian which argue that allowing Chyna to trademark the Kardashian name would injure their reputation and goodwill. Apparently, the documents also accuse Chyna of deliberately attempting to profit from the Kardashian name's obvious popularity. Ouch!
The alleged legal documents oppose a petition that Blac Chyna filed earlier this summer after Rob Kardashian proposed to her to trademark the name Angela Renee Kardashian for entertainment and social media purposes. Chyna's given name is Angela White, and she announced her intention to begin going by Angela Kardashian after marrying Rob --- a wedding date has yet to be set.
The reported legal tiff is the latest spat between Blac Chyna and the Kardashian women. Though the three sisters have been seemingly getting along with their brother's fiancé for the most part, it hasn't always been easy for Chyna to fully mesh with the Kardashians. they've had a tense past beginning with Khloe Kardashian and Chyna's bestie Amber Rose entering a Twitter feud, and some shadiness revolving around a baby shower that Rob Kardashian blew up about on Twitter about a few months back. And of course, none of it is helped by weirdly incestuous fact that Chyna is still raising a child with her ex Tyga, who himself is currently dating Rob's half-sister Kylie Jenner.
But despite all this weirdness, it had appeared that the Kardashians were welcoming Blac Chyna into the fold recently, especially after she gave birth to a new little Kardashian last month. Momager Kris Jenner was actually present when Chyna gave birth to her and Rob Kardashian's newborn daughter Dream Renee Kardashian in early November, and the rest of the Kardashian-Jenners sent the new parents their love. So it seems that it's all lovey-dovey when it comes to the personal stuff, but when it turns into business then the claws come out.
Blac Chyna may have her new little Dream Kardashian, but her dream of becoming a Kardashian might actually turn out to be more difficult to acquire. Hang in there, Angela!