J.K. Rowling Reveals One Of Her Favorite Harry Potter Moments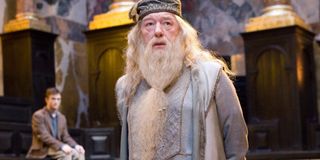 The original Harry Potter books have no shortage of great moments, but there's one in particular that J.K. Rowling considers a favorite. It probably won't come as a huge surprise that one of the author's favorite Potter moments involves Albus Dumbledore.
The conversation came up with Hamilton mastermind Lin-Manuel Miranda tweeted the following as a response to his own request for people to name moments in pop culture that they're still not over:
To which J.K. Rowling responded:
The moment Lin-Manuel Miranda is referring to comes near the end of Harry Potter and the Half-Blood prince. Harry and Dumbledore had just retrieved the locket from the cave, and were attacked by Inferi. Dumbledore was extremely weakened by the potion he was forced to drink, and already at death's door to begin with, thanks to the Horcrux ring. Harry knew the Headmaster wasn't doing so well, and assured Dumbledore that he would get them back to Hogwarts. To which Dumbledore response:
It's a mark of the complete faith Dumbledore has in Harry. And it's one of the last things the (living) Hogwarts headmaster says to Harry Potter before he eventually meets his death by the wand of Severus Snape.
Harry and Dumbledore's relationship was undoubtedly complicated. Even Harry didn't know just how complex Dumbledore was as a man when the headmaster was alive. It wasn't until after Dumbledore's death that Harry learned more details, not only about Dumbledore's past, but also about his plans for Harry. What is never really in doubt, however, is Dumbledore's love for Harry, and the trust he had in him to complete the task for tracking down and destroying horcruxes, and eventually killing Lord Voldemort.
That this would be one of Lin-Manuel Miranda's favorite moments isn't any more surprising than it is that J.K. Rowling connects so strongly to the scene. The Broadway hit-maker certainly knows good story when he sees it.
As for Half-Blood Prince being overshadowed by Deathly Hallows, maybe that's true, though Dumbledore's death is undoubtedly one of the most memorable (and devastating) moments of a series full of memorable (and yeah, pretty devastating) moments. Harry Potter and the Half-Blood Prince left off with Snape's seeming betrayal, the death of Albus Dumbledore, and Harry's decision not to return for his last year at school. From a story perspective, Half-Blood Prince almost seems designed to be overshadowed by the next book. It's the ultimate penultimate in the exact right way. With that said, it's an awesome book, and that moment between Dumbledore and Harry may actually be their best moment in a series of wonderful scenes between the two characters.
J.K. Rowling may have Dumbledore on the brain these days. The author has been hard at work writing the Harry Potter prequel/spinoff film series Fantastic Beasts and Where To Find Them, and its anticipated sequel. She's already written Fantastic Beasts 2, and Albus Dumbledore (who would be in his mid-forties around that time period) is expected to appear. While the role has yet to be officially cast, last we heard, J.K. Rowling had someone specific in mind for the part. To put it mildly, it should be interesting to learn more information about the Hogwarts (then) professor in his younger years.
Get the latest on what's coming for Harry Potter fans here.
Your Daily Blend of Entertainment News
Assistant Managing Editor
Kelly joined CinemaBlend as a freelance TV news writer in 2006 and went on to serve as the site's TV Editor before moving over to other roles on the site. At present, she's an Assistant Managing Editor who spends much of her time brainstorming and editing feature content on the site.
Your Daily Blend of Entertainment News
Thank you for signing up to CinemaBlend. You will receive a verification email shortly.
There was a problem. Please refresh the page and try again.