Harry Potter Star Matthew Lewis Is Engaged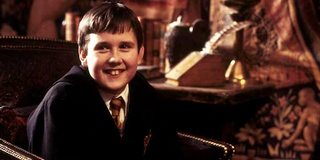 (Image credit: Harry Potter)
Hogwarts' resident poster boy for the magic of puberty is getting hitched! Matthew Lewis, best known for playing the squirrely-but-brave Neville Longbottom in the Harry Potter film series, got engaged to his new fiancé a month ago in Paris, and get this --- he met her at the Wizarding World of Harry Potter theme park! I think it's safe to say Dumbledore will be smiling down on this marriage.
Apparently, this engagement isn't exactly a new thing. According to TMZ, Matthew Lewis actually popped the question to Universal Studios event planner Angela Jones last month while the pair were on a romantic getaway to Paris. The couple has apparently been close all year after meeting at a Universal Studios event in January and then beginning a relationship with one another around July.
Though Matthew Lewis and Angela Jones have been together for a while now, it's actually pretty difficult to find a good photo of the newly engaged couple together --- both Lewis and Jones seem to keep their social media pretty business-only, and apparently only Jones' private Instagram account has a shot of the the pair grinning under the Eiffel Tower post-proposal. But you can check out Lewis and Jones together along with Stranger Things breakout Millie Bobby Brown posing for a photoshoot at Universal Studios just a few weeks before they got engaged.
Matthew Lewis is looking fit and set to marry a fantastic woman now, but he's had quite a journey from his awkward teenage years. To be fair, nobody looks great during those weird preteen and early teenage years when your body is changing in the most awkward ways, but Lewis had the unfortunate experience of his puberty being filmed and then displayed for the world to watch in one of the most popular long-running film series of all time.
Thankfully, after those years of playing the nerdy kid, Matthew Lewis came out on top in the end and showed us all the beautiful butterfly that the preteen Neville turned into with a smoking hot, semi-nude photoshoot last year. Since then, Harry Potter fans have been singing a much different tune about Lewis' sex appeal factor, and Neville Longbottoming has pretty much become its own term synonymous with emerging from an awkward puberty as a golden god. I'm sure Lewis' new fiancé is the most grateful of all about her man's famously gorgeous body, as long as she can put up with a few drooling fans every now and then!
Your Daily Blend of Entertainment News