Kirsten Dunst and Jesse Plemons Are Getting Married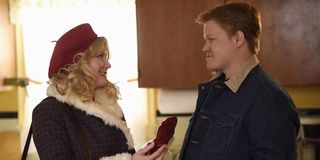 (Image credit: Fargo)
Kirsten Dunst and Jesse Plemons are taking their romance from the screen to the real world. The actors who played husband and wife on the most recent season of Fargo are now making wedding plans for themselves!
Rumors of Kirsten Dunst and Jesse Plemons' engagement arose on Tuesday, after Page Six published claims that the two stars got engaged over Golden Globes weekend. Dunst's mother then confirmed the happy news via her private Facebook page, according to E! News, and Dunst swept away any remaining doubt by showing up at the Palm Springs Film Festival with a brand new diamond ring on her ring finger.
The engagement came as a surprise to most fans of the actors, especially since Kirsten Dunst and Jesse Plemons had been keeping their relationship extremely quiet. The pair met at the very beginning of 2015 when filming for the second season of FX's hit anthology series Fargo began, but Dunst was still dating her On the Road costar Garrett Hedlund at that time. It wasn't until a little over a year later that Dunst and Hedlund decided to end things after four years together. A month after her breakup, photographers for Us Weekly spotted Dunst kissing Plemons. That was back in May of 2016, and the low-key couple was only seen together in public a few times since then.
It isn't difficult for Fargo fans to see why the relationship moved so quickly --- Kirsten Dunst and Jesse Plemons convinced the world of their love before they ever dated, playing high school sweethearts Peggy and Ed Balmquist in Season 2 of Fargo. According to Plemons, the spark between the two of them was obvious right when he met her. The actor gushed about first meeting Dunst at a Paleyfest panel for Fargo back in 2015.
They are also both actors who are catching the eyes of critics with some very well-reviewed roles recently. Jesse Plemons transitioned from child star to a respected adult actor with major roles in beloved television shows like Friday Night Lights and Breaking Bad, along with blockbuster movies like Bridge of Spies and The Master. Kirsten Dunst similarly began her acting career young in now-classic films like Jumanji and Interview with the Vampire, and grew into a Hollywood mainstay, most recently appearing in the critically beloved new release Hidden Figures.
As for bringing their love to the screen again, we have no idea whether Kirsten Dunst is planning on working with her soon-to-be hubby in a professional sense anytime soon or not. Since Fargo is an anthology series, we likely won't see Peggy or Ed Balmquist rekindle their complicated marriage in the show's upcoming third season.
But I'm sure Kirsten and Jesse are more concerned about their upcoming real marriage than their fake one right now.
Your Daily Blend of Entertainment News
Your Daily Blend of Entertainment News
Thank you for signing up to CinemaBlend. You will receive a verification email shortly.
There was a problem. Please refresh the page and try again.