The Insane Amount Of Money Mariah Carey And Elton John Got To Play A Wedding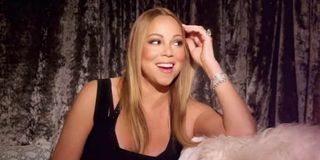 (Image credit: Mariah's World)
It must be nice to be the granddaughter of one of the richest men in the world --- or to be the favorite singer of the granddaughter of one of the richest men in the world. Mariah Carey and Elton John reportedly got paid well over a normal concert fee to perform at the wedding of a Russian billionaire's granddaughter this weekend.
Apparently, Mariah Carey and Elton John made millions for performing some of their hits at a lavish wedding reception over the weekend --- about $4.2 million to be precise, as TMZ has reported. That's certainly more than a wedding band usually makes! The multi-million dollar payout came out of the wallet of Valery Kogan, a Russian billionaire who owns the largest airport in Eastern Europe. According to the Daily Mail, Kogan paid Carey a little over $3 million to fly over to London and perform at his granddaughter's wedding. The publication goes on to claim that since Elton John doesn't perform for less than a million pounds ($1.2 million), Kogan's bill for the two famous singers must have been at least $4.2 million.
As video footage from TMZ shows, Mariah Carey performed a soulful rendition of her song "It's Like That," and Elton John gave a stirring performance of "I Guess That's Why They Call it the Blues," which was reportedly part of a 12-song set for the legendary British musician. Carey also dedicated her song "We Belong Together" to the newlyweds.
It must have been an incredible experience for 19-year-old Irene Kogan, who had just said "I do" to her groom Daniel Kevey and then was treated to concert-length performances from Mariah Carey and Elton John. Reportedly, the two superstars were actually headlining the reception, which went on for seven hours and featured a bunch of other performers.
Hit-making DJ Mark Ronson was also there to get the crowd on their feet with by spinning his smash record "Uptown Funk." It's doubtful that Ronson made quite as much money from his set as Mariah and Elton did, but it seems like he had a great time --- the DJ posted to Instagram that Kogan's wedding was the best ever.
Your Daily Blend of Entertainment News
Your Daily Blend of Entertainment News
Thank you for signing up to CinemaBlend. You will receive a verification email shortly.
There was a problem. Please refresh the page and try again.