Betty White Turned 95 Today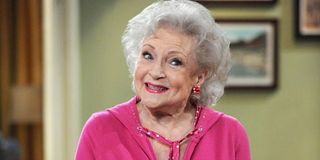 Betty White isn't going anywhere! The iconic actress celebrates her 95th birthday on Tuesday, and is just as vibrant as ever.
To help celebrate 95 years, Betty White sat down with Katie Couric for a birthday interview with Yahoo! News. White, who was given the Guinness World Record three years back for having the longest television career of any female entertainer, reminisced on her favorite roles. She came to the conclusion that her gig as a Saturday Night Live host in 2010 was probably the most fun she had, although her popular Snickers ad from that same year was also up there.
Of course, Betty White doesn't have to reminisce about her acting career --- she's still working. Although her most recent regular role on TV Land's Hot in Cleveland came to an end in 2015, White appeared in the NBC comedy Crowded last year, and she's slated to reprise her role of forensic anthropologist Dr. Beth Mayer in an upcoming episode of Bones. White told Katie Couric that continuing her work in television has been the thing she's most proud of.
I'm sure that we can count on Betty White to make us laugh for years to come. Check out her full birthday interview below.
At the end of 2016, a year that turned out to be surprisingly lethal to so many beloved celebrities, many people were growing concerned about the iconic stars who are up there in age. Following the tragic news of Carrie Fisher and Debbie Reynolds' deaths in the last few days of the year, Betty White became a trending topic on Twitter, which initially scared her many fans until realizing it was because so many people were tweeting about being worried that the nonagenarian would become another victim of the vicious year. Fans even set up a GoFundMe campaign jokingly trying to raise money to protect her from 2016. But in the end, the year was no match for White.
We hope she has an awesome 95th birthday!
Your Daily Blend of Entertainment News
Thank you for signing up to CinemaBlend. You will receive a verification email shortly.
There was a problem. Please refresh the page and try again.