Male Celebrity Nude Photos Apparently Leaked On Twitter This Week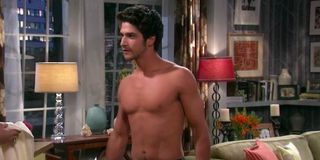 (Image credit: The Exes)
Remember the infamous celebrity nude photo leak of 2014? Dubbed "Celebgate" or "The Fappening," a hacker publicly shared a number of nude photos and videos in the iCloud accounts of various celebrities. Back then, the targets are predominantly female A-listers like Jennifer Lawrence, Kirsten Dunst, and Kaley Cuoco. This week, the leaks started up again, but now the victims are the young men in Hollywood.
Twitter entered into a firestorm earlier this week when nude photos and videos of heartthrob male actors started going viral on the site, HollywoodLife reported. A few of the victims are Charlie Puth, Gregg Sulkin, and Teen Wolf stars Tyler Posey and Cody Christian. All of the leaked photos and videos were posted by a now-suspended Twitter account called "@comproimse," which didn't seem to be showing any sign of letting up, having just posted leaked videos allegedly of Charlie Puth last night.
It should be stated that not all of the nude photos or videos can be authenticated. While some of the shots do clearly show the faces of the celebrity in question --- such as two of the account's most buzzed about videos, of Tyler Posey and Cody Christian --- other photos and videos do not show the man's face. In fact, Gregg Sulkin's ex-girlfriend Bella Thorne even took to Twitter to deny an explicit photo the account attributed to Sulkin was actually him. It sounds like there might be some fakes in there.
It also sounds like the account might be crowdsourcing in its efforts to obtain more nude photos and videos, as it will often tweet followers to direct message it if they happen to have any. One of the common threads in the stars that the account has exposed is that many of them star on the MTV series Teen Wolf. The first nude video the account uploaded was of the show's star Cody Christian, which the account says that it has since been forced to remove by Twitter. It also uploaded photos and videos of Teen Wolf actors Tyler Posey, Ryan Kelley, and Stephen Lunsford.
The other common thread in many of the account's victims is that actress Bella Thorne's three most recent boyfriends are included. Thorne, a former Disney Channel star, dated both Gregg Sulkin and then Tyler Posey in 2016, and also a rumored fling with Charlie Puth. While that may just a coincidence, it's leading a lot of the account's followers to joke that it is Thorne behind the leaks, although her commenting that Sulkin's photos weren't real does seem to disqualify that theory.
Whoever is behind the account, let's just hope they're done sharing nude photos and videos. Nobody deserves to have their private photos shared to the whole world. Beyond the massive invasion of privacy, if the last major nude photo scandal is any indication, there could be legal consequences for the person or persons responsible.
Your Daily Blend of Entertainment News
Your Daily Blend of Entertainment News
Thank you for signing up to CinemaBlend. You will receive a verification email shortly.
There was a problem. Please refresh the page and try again.