Celebrities Impersonate Other Celebrities In Hilarious Graham Norton Video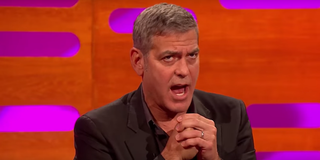 A talented actor can become just about any character that you throw at them... even if that character is another famous actor. And there's no better place for celebrities to show off their impersonations of other celebrities than on the super loose and hilarious Graham Norton Show. Take a look at all the best celebrity impressions in the supercut video from the show below!
Over the past year, Graham Norton has had a wealth of superstars sit on his couch, and as the no-holds-barred conversations go on, they always seem to get to a point where everyone is showing off their best impressions.
The supercut shows off the impressive voice-work chops of acclaimed actors such as Tom Hiddleston, George Clooney, Tom Hanks, and a bunch more. Of course, when you're talking about celebrity impressions, one of the first names to always come up is Christopher Walken, whose distinct cadence is so often replicated. Both Tom Hiddleston and Bradley Cooper showed off their Walken impressions for Graham Norton, and while they both nail it, for my money, Cooper would take it home if it were a competition. But Hiddleston shines brighter when he starts channeling his Midnight in Paris co-star Owen Wilson, as the Brit manages to completely capture Wilson's breezy American twang.
For experienced actors like George Clooney and Tom Hanks, they are best at channeling the directors they've worked with in the past. Clooney offered up a hilariously flamboyant impression of his Batman & Robin director Joel Schumacher, and Hanks put on his best dour and wry voice to get into character as his Sully director Clint Eastwood. Liam Neeson also gave a pretty spot-on impression of Eastwood, who he costarred with back in 1988's The Dead Pool.
And while some celebs shined by impersonating other stars, others showed that they can totally nail some famous fictional characters' voices. Benedict Cumberbatch, who had already shown off his Chewbacca impression, went back into space with a perfect Jar Jar Binks voice. Another surprising one was that Tom Cruise can do a Donald Duck impression, and that Ben Affleck's Batman v. Superman co-stars Amy Adams and Henry Cavill can do the Batman voice just as well as him.
But to nobody's surprise, Family Guy creator Seth MacFarlane is a master of impressions, as he proved by amazingly having Kermit the Frog delivering Liam Neeson's famous Taken speech.
This is actually the second time that Graham Norton has put together a celebrity impressions supercut. If you loved that one, you can continue the fun with the first one, uploaded last March, below. It features Will Ferrell's Harrison Ford impression and Chris Pratt's hilariously flawless British accent.
Your Daily Blend of Entertainment News
Your Daily Blend of Entertainment News
Thank you for signing up to CinemaBlend. You will receive a verification email shortly.
There was a problem. Please refresh the page and try again.