Emma Watson Brings The Glam To Her New Instagram Feed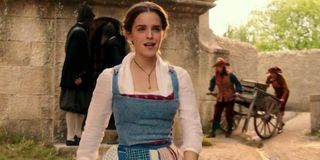 Emma Watson is simply too fashionable for one Instagram account; that's why she just created a second one to show her fans all of the stunning looks that she is wearing on her press tour for Beauty and the Beast. But Watson isn't just using her new account to show off how great she looks in these amazing clothes. The actress is also showing viewers just how much work goes into each outfit she wears by thanking her styling team, and underlining the eco-conscious choices she and her team follow by highlighting some environmentally friendly brands.
On her new Instagram account, The Press Tour, Emma Watson is sharing her day-to-day looks as she promotes next month's Beauty and the Beast, while also lifting the curtain and showing fans all the work that goes into deciding on each eco-friendly outfit.
Though the account has only been up for three days, and features four posts at the time of publishing, Emma Watson has clearly spent a lot of time crafting each one. Not only does each post contain a slideshow that shows sketches, fabrics, and other behind-the-scenes work along with Watson in the finished product, but the actress goes to great lengths to detail each and every piece of clothing or accessory she wears and explain why it was the eco-friendly choice, thereby encouraging her fans to also support environmentally friendly manufacturers.
Emma Watson announced her launch of The Press Tour Instagram account on her personal profile on Sunday as she was first setting off for Paris, France on her first stop for the Beauty and the Beast press tour. She wrote that the account was meant to give fans a behind-the-scenes look at her various stops along the tour this month.
Of course, Emma Watson is certainly no stranger to creating her own online community based on her interests and efforts. A year ago, Watson established her own feminist book club online called Our Shared Shelf, in which she has selected monthly readings that address gender equality and encouraged discussion among the club's members. The book club now has over 170,000 people in it.
We already know that Emma Watson is a beauty, but with her new The Press Tour account, it looks like she's also letting us know that she's using that beauty to help make the world a better place.
Your Daily Blend of Entertainment News
Your Daily Blend of Entertainment News
Thank you for signing up to CinemaBlend. You will receive a verification email shortly.
There was a problem. Please refresh the page and try again.