Emma Watson Gets A Stunning ELLE UK Cover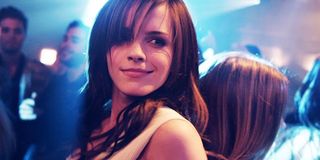 Emma Watson is bringing both a gorgeous photoshoot and a powerful message to the pages of ELLE UK this month. The British fashion magazine just revealed Watson's cover for the upcoming March issue, and it is absolutely breath-taking.
Of course, Emma Watson always looks amazing, and the cover photo showcases that beautifully. Watson is wearing a white collared jacket that creates a corseting effect around the waist, along with sparse naturalistic make-up and windswept hair. Take a look at the picture for yourself below.
But we all know that Emma Watson has so much more to offer than her looks, lovely as she may be. The actress also goes in depth about her work with gender equality, her love of literature, and her upcoming return to the big screen in Beauty & the Beast in the ELLE UK cover story.
Emma Watson has notably stepped away from acting for the entirety of 2016 to focus instead on her activist efforts to promote and support gender equality. Back in 2014, Watson was appointed by the United Nations as the UN Women Goodwill Ambassador, and helped launch the HeForShe campaign to encourage men to get involved in feminist efforts. As Watson became more involved in her activism, she scaled back her acting career. Once a blockbuster starlet who used her Harry Potter fame to land roles in other major bi-screen ventures like The Perks of Being a Wallflower and The Bling Ring, Watson opted for less flashy films throughout 2015 and stepped away from acting altogether in 2016. Watson said the year was about just giving it her all to try to make a difference.
One project that Emma Watson did partake in throughout 2016 was her public feminist book club Our Shared Shelf, which the actress launched last January to promote discussion on feminist ideas among anybody who was willing to join in. The book club now has over 150,000 online members. Though it's very clear that Watson loves literature just as much as her iconic character Hermione Granger and her upcoming character Princess Belle, she says that she doesn't feel ready to write her own book just yet. In her interview, she says that she knows she still has a long way to go before she can feel confident enough to write her own feminist book. I think the fact that she's reading so many works through her book club is the best way to get to where she wants to go!
Emma Watson's issue of ELLE UK will hit stands in March.
Your Daily Blend of Entertainment News