Chrissy Teigen Hugging The Kid From Lion At The Oscars Is Too Cute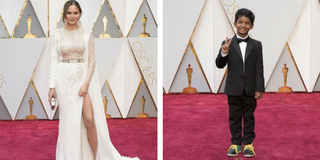 That major Best Picture mix-up may be the thing everyone is buzzing about from Sunday night's Oscar Awards, but for Chrissy Teigen and newcomer Sunny Pawar, the best moment happened before the ceremony even began. The two superstars shared a super adorable hug on the red carpet before heading into the Academy Awards. Check out video of the cute embrace below.
It looks like 8-year-old Sunny Pawar spotted Chrissy Teigen on the red carpet and asked for a hug. Teigen responded with elation, shouting "Of course!" before kneeling down to give the pint-sized Critics Choice nominee a big squeeze. And Teigen wasn't ready for the adorable moment end after the hug, she also asked if she could take a photo with the Lion actor.
And the red carpet wasn't the only place that the model and breakout actor stole the spotlight on Sunday night. Sunny Pawar also gave the audience a cute moment to "Awww" over when host Jimmy Kimmell lifted him up in the air while "The Circle of Life" theme from The Lion King played.
And although her husband John Legend didn't wind up taking home any awards for his performance in La La Land, Chrissy Teigen still managed to provide viewers with a subtle standout moment when she pretended to fall asleep on Legend's arm during the Best Actor category. Many have suggested that the moment was Teigen's act of protest against Casey Affleck's controversial Oscar win for his performance in Manchester by the Sea.
But before all those Oscars shenanigans went down, Chrissy Teigen and Sunny Pawar proved that they were super adorable on the red carpet both when they came together, and also when they were posing on their own. Cutest-couple-ever Teigen and John Legend laughed together as photographers snapped their photos.
And of course, Sunny Pawar just exuded adorableness by smiling and throwing up the peace sign for the Oscars photographers.
Photo Credit: ABC
Your Daily Blend of Entertainment News