Suri Cruise Is The Spitting Image Of Katie Holmes In Adorable New Photo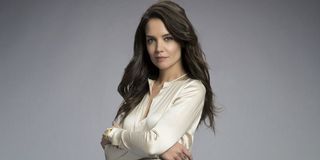 Wow, Suri Cruise is looking more and more like her mom, Katie Holmes! Recently, the Ray Donovan and Ocean's 8 actress took to Instagram, where she shared an incredible photo of her family on a hill overlooking Los Angeles. Of course, we're not really looking at the view because all we can see is how much Suri Cruise resembles her famous parent. Check it out:
In the picture, Suri Cruise is hanging out with her cousins (i.e. Katie Holmes's nephews). Based on the pictures Holmes has shared in recent weeks, it looks like the family has had a chance to spend wonderful quality time together this year. And Suri is looking similar to Katie Holmes in each of them.
These days, Katie Holmes is still busy acting, as well as being a mother, promoting The Kennedys: After Camelot, a Reelz miniseries which retraces the movements of the former First Lady of the United States, Jacqueline Kennedy, in her world after the assassination of her husband, President John Fitzgerald Kennedy. The miniseries serves as a follow-up to the controversial Emmy-winning miniseries The Kennedys from 2011, which starred Greg Kinnear as JFK.
Katie Holmes directed the third episode of The Kennedys: After Camelot, giving her a second credit as director. Last year, Katie Holmes made her directorial debut with the indie film All We Had, in which she starred as a single mother struggling to make a good life for her daughter. According to People, Katie Holmes kept Suri Cruise by her side for the filming of After Camelot. Jon Cassar, who directed the whole of the miniseries, said Holmes made the experience extra special for her daughter and even made a chair that said 'Director' for her. Holmes's After Camelot co-star, Kristin Booth, who has a 5-year-old daughter, said it was a delight to watch Suri Cruise show up to the set to play dress up just like her mom. Booth also praised Holmes for her ability to juggle motherhood with a hectic Hollywood career.
But let's get back to the matter at hand. Check out this throwback photo of Katie Holmes and compare it to the one of Suri Cruise at the top of the page. We think the resemblance is uncanny! But what are your thoughts? Does Suri Cruise look more like mom or dad, or is it a 50-50 split?
Speaking of dad, Suri Cruise's pops, Tom Cruise, also has a full schedule lined up. Any day now, we expect to see him promoting his upcoming film The Mummy, which looks pretty awesome. As we reported, The Mummy will be Universal's endeavor toward producing a new monster universe for classic baddies, such as Dracula and Frankenstein. Tom Cruise is also keeping busy with the world of Mission Impossible, which has a sixth installment slated for 2018. Suri Cruise might have busy parents, but she looks like she is getting into the biz in her own right.
Your Daily Blend of Entertainment News