Ellen Degeneres Was Hospitalized After A Wine Mishap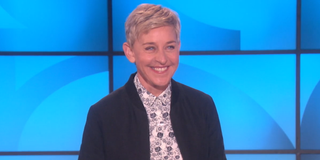 Over the weekend, funny woman Ellen DeGeneres had a mishap and wound up in the emergency room with an injured ring finger. The host of the popular talk show told the Ellen audience about the accident by using her signature ability to make us smile. DeGeneres's story started innocuously enough but then took a turn when she revealed:
Ellen DeGeneres joked that it would be hard to do the show without the tip of her ring finger, but she vowed not to let the (minor) injury beat her. The Finding Dory star explained that she and her wife, Portia de Rossi, were coming home from a dinner party. The pair were almost at the door when DeGeneres's foot caught the lip of the top step. She fell forward and into the door.
In the segment, Ellen DeGeneres first showed the audience a picture of her dislocated finger. Then she showed an X-ray of the dislocated bone. Both pictures were mildly graphic, but DeGeneres showed them anyway and then jokingly apologized for not warning viewers in advance. Ellen DeGeneres kept the laughs coming, saying the receptionist at the hospital had a ton of things for her to sign--a picture for her nephew, a tee shirt, and so on. Of course, the joke there was that hospitals often give people a lot of paperwork to fill out in the reception area. But in truth, the staff at UCLA Medical Center was supportive, according to DeGeneres.
After the opening monologue, Ellen DeGeneres spoke to her DJ, Stephen "tWitch" Boss, and told him what happened after her ER visit. She explained that tons of people (the ones who were conscious, she said) were looking at her as she made her way to the exit. One cute couple stopped DeGeneres outside of the hospital while she waited for her ride. The couple asked to take a selfie with DeGeneres, and she agreed. Afterward, the man told Ellen DeGeneres he hoped she would be okay. She explained that she had merely dislocated her finger and then asked what had happened to him. The guy revealed that he had been hit by a bus! DeGeneres laughed, saying that guy won the story.
This incident seems rather similar to what happened last year when The Tonight Show Starring Jimmy Fallon returned from a two-week hiatus only to reveal that host Jimmy Fallon had almost lost his finger in an accident at home. It is always shocking when celebrities get injured. So, we are relieved to know that Ellen DeGeneres is going to be okay. Based on her humorous opening segment, which you can watch below, it seems like she is in good spirits, so we wish her a speedy recovery.
Ellen DeGeneres is someone who can take an unfortunate situation and turn it into a funny story. Whether she is responding to prejudice, talking about serious matters, or explaining how she injured her ring finger, Ellen DeGeneres can always make us laugh.
Your Daily Blend of Entertainment News