Butterbeer Ice Cream Is Coming, Here's What We Know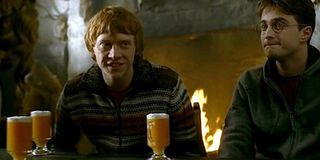 Fans of the Harry Potter series are sure to remember the fictional drink called butterbeer, which shows up throughout the books and films as a popular beverage among people in the world of wizardry. Universal Orlando Resort made a non-alcoholic drink based on butterbeer for the Wizarding World of Harry Potter area of its Islands of Adventure theme park. But, if a trip to Florida is not in your plans anytime soon, you can still try out the flavor of the Hogwarts brew in an extra special way thanks to Yuengling's Ice Cream, which recently announced its latest creation: Butterbeer ice cream.
People often have questions for J.K. Rowling, but in the Harry Potter books, she wrote quite clearly that the magical drink butterbeer tasted "a little bit like less-sickly butterscotch." In Harry Potter and the Goblet of Fire, Rowling revealed that butterbeer had a slight alcohol content that could put tiny house-elves in a state like drunkenness. Yuengling's alcohol-free butterbeer ice cream won't get you tipsy like a house-elf, but you might have some brain freeze, because chances are you're going to wolf it down. According to the company's press release, the recipe for the brand-new flavor includes half buttercream ice cream and half butterscotch ice cream with a twist of a butterscotch swirl. The company says the flavor "is magical decadence that will transport you to another place and time." Yes, please! That sounds enchanting.
In a statement, David Yuengling, the president of Yuengling's Ice Cream, weighed in on the company's delicious addition to its lineup of 18 flavors. Here is what he had to say about the tasty treat:
In addition to having a Harry Potter background, the Butterbeer flavor is also a nod to the ice cream company's roots with the popular Pennsylvania brewery. The company took off when Yuengling's momentarily directed its efforts toward ice cream about 100 years ago during Prohibition. Today the companies are two separate entities.
We love having things to look forward to when it comes to Harry Potter. But this news is happening now! Yuengling's currently has Butterbeer ice cream available in pints, which we think sounds ideal for a fan who could, say, find it fun to revisit the Harry Potter movies one by one while he sits with a spoon in one hand and a carton in the other. Not that we would ever do such a thing. (But we would, Bridget-Jones style with a big cozy blanket wrapped around us. And, sometime this year, Yuengling's will make quarts of Butterbeer ice cream available, which means we could invite a friend.)