Demi Lovato And Wilmer Valderrama Reunited One Year After Splitting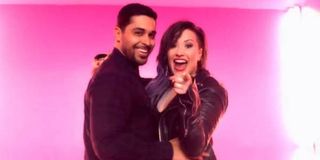 A year ago, singer Demi Lovato and actor Wilmer Valderrama ended their six-year relationship with an announcement on social media. When Lovato and Valderrama split, they explained it was a difficult decision, but they realized they worked better as best friends. Lovato and Valderrama promised to remain supportive of each other, and from the looks of it, they have kept that promise. Over the weekend, Lovato and Valderrama reunited for a barbecue to celebrate Los Angeles Gay Pride at the 24-year-old pop star's house. Check out a photo here:
Demi Lovato and Wilmer Valderrama look thrilled to be in each other's company. Lovato posted the photos to her Instagram story with the caption "best of friends no matter what," so perhaps it is true what the two stars said about wanting to remain buddies after their break up. Here they are having some fun in the sun:
In fact, since Lovato and Valderrama parted ways, they have continued to say only positive words about each other to the media. For example, Valderrama said in an interview he wished nothing but the best for Lovato. In return, Lovato spoke in an interview late last year and shared lovely words about her ex-beau. She suggested her 36-year-old ex-boyfriend helped her through a lot of personal trials and tribulations. However, Lovato did indicate she felt happy to leave her relationship with Valderrama in the past because she wanted to move forward from the person she was when they began dating. Therefore, it seems like a safe bet to say the reunion in the photos is of two friends happy to be spending time with each other---nothing more, nothing less.
Besides, the timing might not be great if they wanted to date again. These days, Demi Lovato is, again, newly single after splitting up with her MMA fighter boyfriend, Guilherme ''Bomba'' Vasconcelos, whom she dated for a couple of months starting late last year. Furthermore, Wilmer Valderrama is working on a bunch of television shows, including NCIS and The Ranch. So, it sounds like Lovato and Valderrama both have full plates at the moment.
Demi Lovato and Wilmer Valderrama are not the only celebrities who have found success remaining pals. In recent times, we have heard of several stars breaking up but stayed legitimate friends---as opposed to friendly when necessary. For example, Academy Award-winning actress Gwyneth Paltrow recently opened up about how hard she worked to make certain she and Coldplay frontman Chris Martin remained cordial after their "conscious uncoupling" divorce. Now, according to Paltrow, they remain friends focused on the same goals.
Similarly, actor Orlando Bloom recently talked about how he and singer Katy Perry were determined to stay friends after their split. In fact, after the breakup, Perry took to social media to encourage her Twitter followers to adjust their views on relationships and see how two people can continue to care for each other after a split, because not every breakup results with one person being a victim and the other person being a villain.
It is great to see Demi Lovato and Wilmer Valderrama happy together. This positive trend of being kind to exes is fantastic, and we hope it is something that continues.
Your Daily Blend of Entertainment News