Brandi Glanville Is At Her Breaking Point With LeAnn Rimes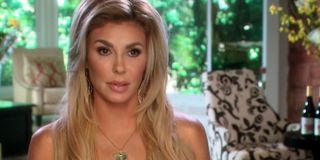 Country singer LeAnn Rimes and actor Eddie Cibrian raised eyebrows several years ago when their affair led to Rimes's divorce from her first husband, Dean Sheremet, and Cibrian's divorce from his first wife, Brandi Glanville of The Real Housewives of Beverly Hills. Rimes and Cibrian remarried each other soon afterward, but from the sounds of it, the ride has been rocky because of drama behind the scenes between Rimes and Cibrian's ex-wife. In fact, Glanville recently unloaded a ton of thoughts about Rimes in a statement, writing,
Brandi Glanville's statement is pretty pointed, noting the exact people whom she believes have done wrongly by her. Glanville made the claims about LeAnn Rimes and Eddie Cibrian in a statement to The Dirty. It was a continuation of other accusations the 44-year-old reality television personality has made in previous interviews during which she has done things like predict Cibrian most likely would leave Rimes after ten years of marriage so he could collect half of her assets. (In California divorces, exes can receive 50 percent of their ex-spouse's assets.) In the most recent interview, Glanville also wrote about the couple,
Brandi Glanville also explained the moment that sent her over the edge happened when she allegedly noticed LeAnn Rimes and Rimes's assistant had viewed her boyfriend's Snapchat several times one day not long ago. According to Glanville, Rimes later appeared with Glanville's children at a restaurant where she and her boyfriend had announced they would be dining, and Rimes sat across the room to harass Glanville.
However, Eddie Cibrian told E! an entirely different story. Cibrian said neither he nor LeAnn Rimes has ever unexpectedly shown up places where Brandi Glanville might be. Moreover, he offered proof Rimes had made a reservation at the restaurant five days before the awkward encounter, and he encouraged anyone doubting the story to call the restaurant. Cibrian also criticized Glanville for speculating about his marriage to Rimes and expressed concern for Glanville because of her behavior.
It is a shame to hear such tension and vitriol remains in the family after all these years. Hopefully, all of the adults can check their egos to keep focused on the kids.
Your Daily Blend of Entertainment News
Thank you for signing up to CinemaBlend. You will receive a verification email shortly.
There was a problem. Please refresh the page and try again.