Jonah Hill Just Dropped A Ton Of Weight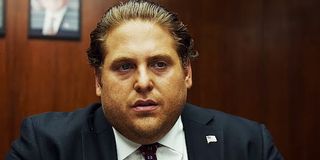 Jonah Hill has made a name for himself as a comedic actor in movies like Superbad and The Wolf of Wall Street. Now fans might have a hard time recognizing the 33-year-old movie star at first glance because he has (once again) dropped a significant amount of weight in a matter of months. We will let the pictures do the talking. Take a look here:
The Los Angeles paparazzi caught the 21 Jump Street star enjoying a protein shake from the health-food store Erewhon after he had worked out at his gym. Hill looked much healthier and slimmer than he did about a year ago. But it was not an overnight success story. Jonah Hill has been up in the gym working on his fitness for months and months. Now it appears his hard work is paying off because the Internet is taking notice, and people are having a field day posting compliments and side-by-side photos on Twitter. Here is another shot of Hill looking great this month:
Jonah Hill first dropped a lot of weight back in 2011 for the filming of Moneyball. In an interview from that time with ABC News, he said,
Back in January, at the 2017 SAG awards, Jonah Hill showed up looking dapper in a fitted tuxedo, something he might not have been able to pull off so well a year ago before he started his weight loss journey. However, the most recent paparazzi images of Hill show he has lost even more weight since the beginning of the year.
As a character actor, Jonah Hill has changed his look to fit roles. Last year, for example, Jonah Hill gained a whopping 40 pounds for his part in the movie War Dogs. After filming the movie, the actor wanted to drop the weight, so he called his Hollywood pal, Channing Tatum, and asked for some advice about getting in shape. He chronicled the story during an interview on The Tonight Show Starring Jimmy Fallon, telling Fallon he kept a food journal to keep himself accountable while he shed the pounds.
It is inspiring to see Jonah Hill looking fit and healthy. Losing weight is never easy, but because Hill has been burning the fat at a steady pace over the course of several months, it seems like he is committed to getting in shape the right way by adjusting his lifestyle, which is usually the best way to do it.
Your Daily Blend of Entertainment News
Your Daily Blend of Entertainment News
Thank you for signing up to CinemaBlend. You will receive a verification email shortly.
There was a problem. Please refresh the page and try again.