Lorde Just Apologized For Calling Taylor Swift An Autoimmune Disease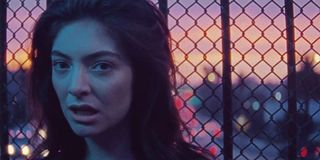 Although Lorde is busy promoting her new pop album, Melodrama, she recently found time to stir up quite a bit of controversy by making a flippant metaphor about her Hollywood gal pal, Taylor Swift. In a recent interview, the 20-year-old singer from Auckland, New Zealand joked that hanging out with her Grammy Award-winning buddy is like being with someone who has an autoimmune disease because there are a lot of restrictions on what Swift can and cannot do. The joke did not land well, and Lorde wound up in a heap of trouble on social media. Luckily, she took time to apologize for the gaffe, tweeting,
Yikes! It's a Melodrama indeed. It is a good thing Lorde took the time to backtrack and apologize when fans called her out on Twitter. Unless your name is Kim Kardashian, you do not mess with Taylor Swift. The girl knows how to hold a grudge. (Just ask Katy Perry. Or better yet, ask Apple Music and Spotify.)
On the whole, the interview Lorde gave to The Guardian was interesting yet harmless. However, the part where she ran into trouble happened when she said,
The statement offended many people who have or know someone who has an autoimmune disease. There are more than one hundred autoimmune diseases, including multiple sclerosis, type-1 diabetes, AIDS, and so on. Using the metaphor was bound to offend someone.
Plus, Taylor Swift's best friend, Selena Gomez, has the autoimmune disease lupus. In fact, back in 2015, Gomez took time off from her hectic schedule to deal with the symptoms of her illness. Surely, Lorde must have forgotten about Gomez's struggle when she made the comparison. Still, if Lorde wants to be part of Swift's squad, she ought to tread lightly for a while.
After all, it is at least the second time Lorde has put her foot in her mouth on the subject of Taylor Swift. Back in 2013, Lorde indicated to a radio interviewer that she thought Swift was not a good role model for young girls because she sets the bar at an unattainable level. Lorde went on to apologize for that statement, too.
It is coincidental she said something so outrageous in this particular interview because the article from which the comment comes mentions how calculated and considerate Lorde usually is when she speaks. In fact, the report says Lorde often speaks like someone a decade older than herself. However, it seems like the singer did not give this joke enough time and consideration before she said it. Perhaps the wisest part of the whole ordeal is the fact Lorde apologized about it in the end.
Your Daily Blend of Entertainment News