Taylor Swift Reacts To Drake's Bad Blood Bench Press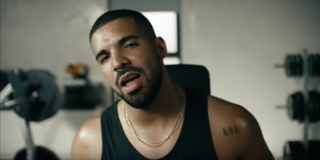 (Image credit: Apple commercial)
Drake just can't seem to get Taylor Swift out of his head. The rapper showed his love for Swift's feud-fueled hit song "Bad Blood" by passionately lip-syncing to it in a new commercial for Apple Music. So what does Swift think about Drizzy's performance? She loved it, of course! Check out Drake's full performance in the commercial below.
After Apple premiered their new ad featuring Drake adding some aggressive swagger to "Bad Blood" during the American Music Awards on Sunday night, Taylor Swift posted the commercial to her Instagram and a expressed her delight with an all-caps "YES" in the caption.
The new Apple commercial is a clever switcheroo of the company's successful viral ad from earlier this year, which featured Taylor Swift singing along to Drake's song "Jumpman" in the gym and then falling off her treadmill. The new ad also comes at a pretty interesting time for Drake and Swift's relationship in the public eye. Both romantic and professional rumors have been swirling around the two artists since they were seen getting close at Drake's birthday party last month. Drake reportedly kept close to Swift for a long time at the party and introduced her to a lot of his inner circle, including his mom.
Weeks after fans and media outlets started speculating about a possible romantic relationship between the two, Drake fanned the flames even more by posting a photo of the two of them from the party. Swift is recently single after ending a relatively short summer romance with Tom Hiddleston, and Drake's relationship status is always in kind off up in the air (is he dating Rihanna or not!?).
If a romance isn't what's brewing, then some people have also assumed that their recent closeness could point to a possible musical collaboration. Swift is overdo on for her biannual fall album --- all five of her albums were released pretty much exactly two years apart, which lead fans to assume her sixth album would have been out by now --- so perhaps we'll see Drizzy spit a verse on her new album.
The one thing that Drake and Taylor Swift definitely do share is the title as two of Apple Music's top artists. Drake's latest album Views was released exclusively on Apple Music earlier this year and smashed the site's streaming records by being played over a billion times, according to CNN. Likewise, Taylor Swift famously kept her 2014 album 1989 off of online streaming services after it was released to protest how the sites pay their artists, but eventually struck up a friendship and chose to stream the hit album on Apple Music, Billboard reported. With a track record like that, it's no wonder Apple Music is combining Drake and Swift!
Your Daily Blend of Entertainment News