The Big Bang Theory's Johnny Galecki Just Lost His House In A Massive Fire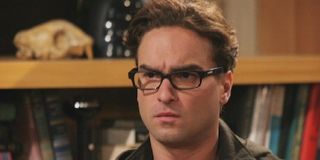 Johnny Galecki of The Big Bang Theory fame experienced a significant loss on Monday, June 26, when his rural holiday home in California burned down. The 42-year-old television actor's large ranch was but one of the several residences destroyed by a wildfire that spread through San Luis Obispo, California.
A representative for Johnny Galecki told Variety the actor, who plays Dr. Leonard Hofstadter on the long-running CBS sitcom, was not at the house at the time of the fire nor had he seen the damage at that point. Then in a statement to TMZ, Galecki expressed empathetic words to his neighbors in the region. He emphasized the importance of the people over the possessions and said,
Despite losing his home, Johnny Galecki kept a constructive outlook in the statement. He acknowledged some people might think it absurd to see the community continue to rebuild in the same place when wildfires keep happening there time and time again. However, the former Roseanne actor said he and his neighbors continue to return to the area because it is beautiful and they love living there.
Johnny Galecki sent encouraging words to his fellow community members. He reminded them they had rebuilt in the past after wildfires, and he expressed confidence they would restore the area this time, too. He indicated he believes the process of rebuilding will help the neighborhood grow stronger than ever. Galecki also expressed gratitude to the officials who had contributed to the containment of the fire and said he felt "so very relieved no one has been hurt."
Around 250 residents of Santa Margarita, California, had to flee from the area when the region burst into flames on Monday. On Tuesday evening, the California Department of Forestry and Fire Protection (CAL FIRE) and the San Luis Obispo County Sheriff released a statement to explain the wildfire had burned at least 1,598 acres of land, but fire officials had contained about 60 percent of 2.5-square-miles of the area. The report also said residents of the area could return to their homes, but the restrictions remained in place for travel by nonresidents.
Aside from the fire and the loss of the holiday home, Johnny Galecki's luck has not been all bad. The actor is set to continue filming The Big Bang Theory. Plus, he is developing a new show, Scijinks, which sees scientists creating pranks and stunts for contestants. Hopefully, Galecki can repair and rebuild his home and continue helping his neighbors.
Your Daily Blend of Entertainment News