Jim Parsons Has Finally Married His Partner Of 14 Years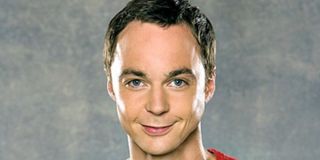 Bazinga! Emmy Award-winning actor Jim Parsons has married graphic designer Todd Spiewak, his partner of fourteen years. The 44-year-old television star, who is most famous for playing Sheldon Cooper on The Big Bang Theory, tied the knot with Spiewak at the famous Rainbow Room in New York City in a private ceremony on Saturday, May 13. Details of the event sound delightful.
First of all, Jim Parsons' The Big Bang Theory costar Mayim Bialik was among the guests at the event. (We love that news because Parsons's TV character incidentally proposed to Bialik's character on the recent season finale of the show, so there is a chance he could get to enjoy two nuptials this year--once for real and once on CBS.) Bialik dished about the Parsons-Spiewak wedding to People and said Parsons and Spiewak married under a beautiful chuppah, a canopy for Jewish weddings. The former Blossom actress also said guests were "so present" in that they put away their smartphones out of respect to be fully focused on the moment instead of snapping photos. Still, some of the wedding guests and Parsons himself got pictures that made their way to social media for a glimpse at highlights from the evening, such as Parsons and Spiewak's first dance.
In recent times, we saw Jim Parsons up in the gym working on his fitness at the studio of Ben Bruno, who is a personal trainer to stars such as supermodel Kate Upton, talk show host Chelsea Handler, and movie star Casey Affleck. Maybe Parsons was prepping his physique the Hollywood way in advance of his and Todd Spiewak's walk down the aisle. In fact, in the caption for one of Parsons' social media posts about the wedding, he thanked a guest for helping to arrange Tom Ford tuxedos--and a change of jackets for the reception--for him and Spiewak. If Parsons and Spiewak wanted to look sharp on the big day, they certainly accomplished their goal. Check out the ceremony looks:
And then they added a touch of fun with white and crimson jackets specifically for the reception. What a classy idea. Take a look:
Jim Parsons first made mention of his relationship with Todd Spiewak in a newspaper interview in 2012. He received praise for his brave coming out in public, but he explained he did not view himself as an activist for sharing an ordinary life with his sweetheart. Later, he sat down for an interview with Ellen DeGeneres and told the talk show host--who, of course, also had a very public coming out--he was not in a hurry to put a ring on it. But earlier this year, Jim Parsons took to social media to post a throwback photo of himself with Spiewak and profess beautiful words about the love of his life on their fourteenth anniversary. In the caption for that particular image, Parsons called his introduction to Spiewak "the best thing that ever happened" to him.
This story makes us smile from ear to ear. Congratulations, Jim and Todd!
Your Daily Blend of Entertainment News
Your Daily Blend of Entertainment News
Thank you for signing up to CinemaBlend. You will receive a verification email shortly.
There was a problem. Please refresh the page and try again.