The Big Bang Theory's Melissa Rauch Opens Up About Her Current Pregnancy And Past Miscarriage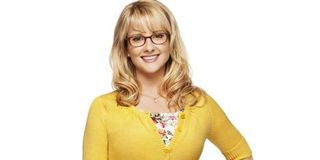 Melissa Rauch and her husband, Winston Beigel, are expecting their first child this year. The 37-year-old actress' road to pregnancy was a tough one. She previously experienced the loss of an unborn child. Now Rauch has opened up about her pregnancy struggles. In a beautiful essay, Rauch recalled the roller coaster of emotions she faced in recent years.
The actress, who plays Bernadette Rostenkowski on the popular CBS comedy The Big Bang Theory, wrote about the heartbreak she felt when she and her husband learned about the miscarriage. Melissa Rauch even broached the feelings of resentment that bubbled up when she heard about other families having kids.
In the essay for Glamour, Melissa Rauch wrote about feeling hesitant to let people know she was again pregnant. She teased that she would have preferred not to let anyone know she and her husband were having a child until the child was grown up and heading off to university. The statement revealed some of the pain Melissa Rauch harbored from her previous miscarriage. It makes complete sense for Rauch to want to shield herself when the question of "what if" lingers in her heart.
However, in the letter, Melissa Rauch examined the nature of grief and guilt. She brought up how she feels the word "miscarriage" seems to have a connotation about it that points fingers at the woman, as though the woman did something wrong. She wrote,
Melissa Rauch explained that another word would not take away the pain. However, she indicated there could be better ways to talk about the topic of prenatal loss. For example, she and her husband said the baby "bailed." She suggested that sensitivity is natural during the grieving process. In fact, she once felt so overcome with emotion that she began sobbing while watching House Hunters International, which is supposed to be a feel-good show.
In the essay, Melissa Rauch also discussed the fact that women often hear questions about children. People often ask when women will have kids. Then if women have children, people ask when they will have more. In Rauch's opinion, men usually do not face the constant barrage of questions, which she called The Great Baby Inquisition. Rauch made a compelling point when she wrote,
Melissa Rauch rounded out the essay by talking about how people process grief in different ways. She added words of support for anyone experiencing prenatal loss, and she expressed gratitude for the chance to be pregnant this time.
The letter is exquisite and eye-opening. Melissa Rauch writes from a space of beautiful compassion. These days, she has a lot on her plate. For example, CBS recently renewed The Big Bang Theory for two more seasons. Plus, Rauch recently finished voicing Harley Quinn in the animated Batman and Harley Quinn movie. But of course, the most exciting thing on her agenda is her pregnancy journey. We wish her and her husband all the best.
Your Daily Blend of Entertainment News
Thank you for signing up to CinemaBlend. You will receive a verification email shortly.
There was a problem. Please refresh the page and try again.