R. Kelly Accused Of Brainwashing Women And More Cult-Like Behavior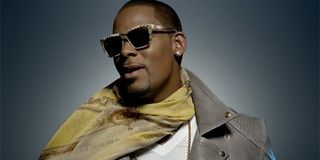 R. Kelly is back in the news for supposed illicit sexual activities with girls. Reportedly, the 50-year-old R&B singer has a cult of young women living in a state of mind control at residences he owns in Georgia and Illinois. A new article tries to blast through the walls of the supposed conspiracy to shed light on a corrupt situation happening behind the scenes in Kelly's world.
Chicago-based journalist Jim DeRogatis, who has been following R. Kelly's legal battles for years, published the lengthy article for Buzzfeed. The report includes details from three insiders---Cheryl Mack, Kitti Jones, and Asante McGee---who claim Kelly has six women between the ages of 18 and 31 living in his Atlanta and Chicago homes, and the Grammy Award-winner controls their daily lives and sexual activities. Supposedly, Kelly lured girls into the cult with the appeal of fame and fortune from recording contracts.
After the publication of the article, the parents of Jocelyn Savage, one of the women allegedly in R. Kelly's cult, held a press conference in Atlanta, Georgia. They alleged that their daughter was suffering from Stockholm syndrome and could not leave Kelly's compound in Atlanta.
The plot thickened when Jocelyn Savage herself sat down for an interview with TMZ following her parents' press conference. The 21-year-old woman denied her parents' accusations about her mental state and the sex conspiracies. Furthermore, Savage said R. Kelly was not holding her against her will, and she stated her current age several times for the record---omitting how old she was when R. Kelly first pursued her. Savage even said she had left Atlanta, but she would not say where she had moved nor whether or not other women lived with her.
Linda Mensch, the civil lawyer representing R. Kelly, released a statement that managed not to confirm or deny the recent allegations while deflecting the situation by talking about the singer's benevolent goals. Mensch stated,
It is not the first time R. Kelly has faced accusations of sexual misconduct. In the early 2000s, a video tape surfaced supposedly showing Kelly having sex with a 14-year-old girl. And Jim DeRogatis, the reporter behind the recent article about Kelly's supposed cult of girls, was the person who received that video tape from an anonymous source and handed it over to authorities. In the court case, DeRogatis plead the Fifth Amendment to protect his source. In 2008, a jury acquitted Kelly of 14 charges of creating child pornography in that case.
That trial lasted six years. It excluded accusations by girls who received cash settlements and signed non-disclosure agreements before the trial. Also, the court case omitted information about Kelly's infamous marriage to Aaliyah. She was 15, but he was 27 when he married her and produced her album, Age Ain't Nothing But A Number. Years later, Aaliyah's uncle supposedly wrote a letter to Kelly's attorney and said Kelly should get psychiatric help to stop him from grooming girls.
The singer has faced other sex-related cases over the years, which Jim DeRogatis outlined, but Kelly has never been found guilty. For example, in the late 90s, a Chicago woman gave a seven-hour deposition about a criminal sexual relationship R. Kelly had with her when he was 24, but she was 15. Kelly settled that case in 1998. Then another Chicago woman accused Kelly of forcing her to perform sex acts with other women. In 2002, a woman said Kelly secretly filmed her during sex. The list continues.
The new accusations against R. Kelly are damaging. We'll have to stay tuned to see what happens next in this ongoing saga.
Your Daily Blend of Entertainment News
Thank you for signing up to CinemaBlend. You will receive a verification email shortly.
There was a problem. Please refresh the page and try again.