George And Amal Clooney Are Suing Over Photos Of Their New Twins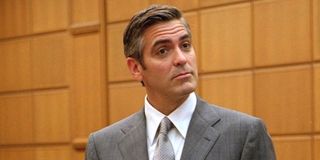 George Clooney and Amal Clooney are out for blood after a French tabloid recently published photos it said were the first shots of the Clooneys' infant twins. The Money Monster actor and his successful attorney wife released a statement after the publication of the images. The Clooneys described the dubious methods the magazine's photographers supposedly employed to capture photos of Alexander and Ella Clooney. The statement said,
Yikes. Can you imagine the paparazzi climbing the walls of your house to take pictures of you and your family? That situation sounds terrifying enough, but imagine having it happen when you are busy caring for your two babies who are but a month old. If the Clooneys gave an accurate story in their statement, which People published, then someone crossed a line.
The magazine released a statement of its own and contended that it took and published the photos of the babies because the Clooneys are a topic of public interest. The magazine explained,
The magazine is correct that the Clooneys are big celebrities, and many people want to see photos of the kids. But fans want to see photos that George Clooney and Amal Clooney release when they feel ready, not creepy photos that somebody took through a window of the Clooneys' home.
Unfortunately, the magazine might have messed with the wrong people. You do not want to be on the Clooneys' bad side. George Clooney has connections to almost everyone in Hollywood. Plus, Amal Clooney is a successful barrister of international law with high-ranking connections in her field.
In fact, Amal Clooney works for the Public International Law Panel of Counsel for the Office of the UK Attorney General. She was a signatory for UNICEF and knows all about laws that protect children. She even spoke in front of the United Nations. In other words, she knows a lot of people and could likely legally pummel anyone who crossed her or her family. Photographers should think twice before they try to invade her family's privacy.
This story resembles what happened to Prince William and Princess Catherine when photographers in France published topless photos of Kate Middleton in the privacy of a chateau. The Royal family won the case in that story. We'll have to stay tuned to see what happens with the Clooneys.
Your Daily Blend of Entertainment News
Thank you for signing up to CinemaBlend. You will receive a verification email shortly.
There was a problem. Please refresh the page and try again.