Kim Kardashian Was Just Sued For 100 Million Dollars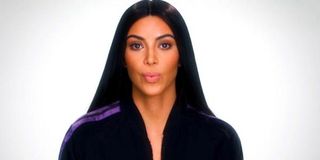 A new lawsuit has a spotlight on Kim Kardashian and her favorite cell phone case company, LuMee, which sells cases that contain LED lights that light up when the user wants to take a selfie. Now Snaplight, another cell phone case company, says LuMee is infringing on its patent. The man behind Snaplight says the matter is imperative and wants the Keeping Up with the Kardashians celebrity and LuMee to pay a whopping $100 million in damages.
Hooshmand Harooni, the inventor of Snaplight's technology, filed a patent-infringement lawsuit against Kim Kardashian, Kimsaprincess Inc., and Urban Outfitters. As Page Six tells it, Snaplight has a patent for an "integrated lighting accessory and case for a mobile phone device." Harooni got the patent back in 2013 and licensed it to Snap Light LLC. Harooni says LuMee's product is the same as his with the only minor difference being that Snaplight has a charger built in while LuMee does not. (In other words, he thinks LuMee is not just knockoff of the technology but a worse knockoff to boot.)
Hooshmand Harooni says Snaplight has found it difficult to sell his product because Kardashian has such a strong marketing presence. Therefore, he wants $100 million to make up for lost profits, to pay the attorneys' fees, and to issue an injunction and prevent the use of his patented technology by Kardashian, her company, and LuMee's associates.
Bardia Rahim, the founder of Snaplight, commented on the case and called Kim Kardashian's and LuMee's approach toward marketplace competition unpatriotic. Rahim said,
For its part, LuMee is not standing down. Reportedly, the company has a patent of its own and received it in 2016, three years after Snaplight received its patent. LuMee asserts there must be significant differences between its product and Snaplight because the U.S. Patent and Trademark Office approved them both. The company gave a statement and said it was "disappointed" to learn about the lawsuit. LuMee said,
Of course, Kim Kardashian is no stranger to controversy in business. Just last month, for example, she began a new line of cosmetics and caught flak from critics on social media who said her advertisements exhibited examples of blackface. However, she usually bounces back from her business missteps, so we'll have to see what happens this time.
Your Daily Blend of Entertainment News
Thank you for signing up to CinemaBlend. You will receive a verification email shortly.
There was a problem. Please refresh the page and try again.