Kim Kardashian Responded To Allegations She Wore Blackface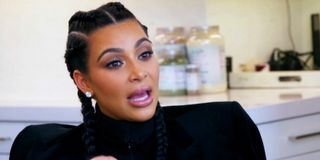 Kim Kardashian sparked heated conversations this week when she took to social media to post a series of photos promoting her new line of makeup, KKW. The 36-year-old reality television personality looked unusually tan--perhaps brown--in the pictures, and some of her social media followers wondered whether the look might be a form of blackface.
According to Kim Kardashian, critics of the photo shoot got it all wrong. She was not wearing blackface, but she was very tan. In a recent interview with The New York Times, Kardashian indicated she did not intend for the makeup to appear as blackface, and she explained she never meant to make people angry with the look. The _Keeping Up with the Kardashians _celebrity said,
The controversy kicked off when Kardashian tweeted,
Most of Kim Kardashians 53.8 million followers on Twitter supported her during the brief controversy. Many of them questioned the whole hullaballoo and said it seemed apparent Kardashian was not wearing blackface. Still, Kardashian took a moment to tell her side of the story and explain how she and her team took actions to correct the problem. Kardashian said,
Apparently, Kim Kardashian and her team noticed the backlash toward the photos moments after posting. So, they scrapped the original pictures, adjusted the settings on the files, and tossed up revised versions of the same images. Here is another of the images from Kardashian's Instagram:
It is not the first time that critics have accused Kim Kardashian of wearing blackface. In 2012, Kardashian did a controversial photo shoot with Hype Williams and posted a gallery of the pictures to her Celebuzz website. Her stylists, Clyde Haygood and Joyce Bonelli, helped her achieve a look "channeling Diana Ross." The pictures garnered mixed reactions from fans, many of whom questioned Kardashian's decision to darken her skin, wear an afro, and then call it "a fun, crazy look."
Perhaps Kim Kardashian has quelled the storm for now. But knowing how to bounce back from controversies is nothing new for her. Besides, these pictures didn't have the same intent as the Diana Ross pictures from years ago. (In fact, does anyone else think Kardashian a little bit resembles Gal Gadot in these images?) Still, we'll have to wait and see what else she'll do with promotional photos in the future.
Your Daily Blend of Entertainment News