Sofia Vergara Poses Nude, Talks About Her Body At 45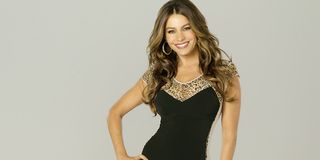 On Modern Family, Sofia Vergara plays Gloria Pritchett, a stunning Colombian mom with a fantastic sense of style. The role is not a far cry from Vergara in real life. She is stunning. She is a Colombian mom. But for a recent magazine cover, Vergara ditched the fashion and opted to wear nothing but a smile. At 45-years-old, Vergara proved she still looks fit and fabulous, and age is nothing but a number. Have a look here:
Go ahead and pick your jaw up off the floor. Sofia Vergara is stunning here. Women's Health nailed it asking her to be the woman on the cover of their inaugural "Naked Issue." True, the words "strong" and "sexy" are some of her best qualities, but let's not forget "bilingual," "charitable," and "highest-paid actress on television."
During the interview, Sofia Vergara admitted she had some hesitations about going nude for the magazine. The actress indicated she likes it when people say she looks twenty years younger than her real age, but she still feels every bit of 45 years old when she looks in the mirror. Vergara explained,
It sounds like Sofia Vergara takes the right approach when people try to flatter her by saying how young she looks. She seems to be proud of her age, which is a good thing. Vergara is like a fine wine getting better with age, so it makes sense that she is not interested in pretending to be younger. (And, by the way, her skin looks great!)
In the article, Sofia Vergara talks about keeping a sense of balance when it comes to diet and exercise. Unlike her hunky husband, Joe Manganiello, Vergara is not a fan of the gym. She says it is hard before and during workouts, and she dislikes the moments afterward because she has to schedule another lesson. However, she (obviously) finds time to keep active. At one point in the interview, the Modern Family star turns away a tray of snacks and opts for a sensible snack of jasmine tea and fruit, and she admits that her cheat day is Thursday. Vergara explained the importance of balance and said,
Yes, that attitude is excellent! Sofia Vergara seems to have figured out the secret to success is keeping balance. It is a great reminder for us all.
Your Daily Blend of Entertainment News